"Pokemon Concierge" Stop-Motion Show Announced at Netflix!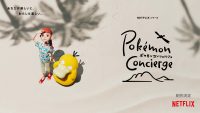 During today's Pokemon Direct, The Pokemon Company announced it's partnering with Netflix to produce a new stop-motion show called Pokemon Concierge. A short teaser showed Psyduck walking across the sandy beach of a resort.
The show will take place at a paradise-style resort and see various Pokemon visiting. The main character is a concierge named Haru. According to Netflix, the show's stories will be inspired by the comics, anime, and Pokemon fan contributions.
The show will be produced by Dwarf Studio, which is known both domestically and internationally for its stop-motion animation.
No release date has been announced yet.