New Pokemon Scarlet & Pokemon Violet Trailer to Release June 1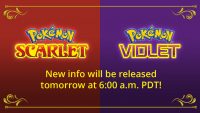 The official Pokemon Twitter account has announced that a new trailer will release tomorrow, June 1st, with new information about Pokemon Scarlet and Pokemon Violet. The trailer will release at 6am Pacific Time.
No word yet on what we can expect from the trailer in terms of length or content. Will we see the box legendaries? This generation's gimmick? Some new regional forms? It's all a big unknown at this point, but it's exciting!
What would you most like to see revealed in tomorrow's trailer?
🚨 New #ScarletViolet trailer drops tomorrow! 🚨

You read that right, Trainers. Tune in to our YouTube channel at 6:00 a.m. PDT on 6/1 for the latest on Pokémon Scarlet and Pokémon Violet!

Make sure you're subscribed and have notifications turned on: https://t.co/8Hw4hsHzDJ pic.twitter.com/CHyBhxY1JT

— Pokémon (@Pokemon) May 31, 2022