Understanding (But Not Fearing) Standard's Boogeyman: Mew VMAX
Mew VMAX has no particularly good matchups, yet if its domination of the format is any indication, it doesn't seem to need them. Whatever your opponent puts in front of you, Mew will bulldoze through it. As a Mew player, you can also turbo through your deck with reckless abandon; it's a true churn-and-burn deck if there ever was one. This makes Mew's game mode rather predictable: it will keep moving forward until its enemies are destroyed. It will not disrupt your hand. It will not recover resources. It will only blow you up one Pokemon at a time. Mew is the living embodiment of a deck that is all gas and no brakes.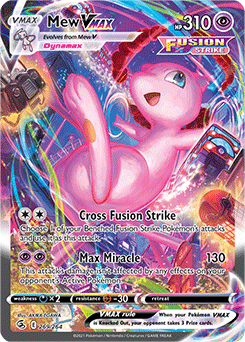 What makes Mew so good despite its predictability and even matchups is that the deck has literally everything it could ever want built into it. Its most defining aspects are its unbelievable speed and power, both of which are hallmark attributes of any great Pokemon deck. Not only can Mew frequently attack on turn one, but when it does, it can do upwards of 300 damage! What is truly absurd is that this isn't even a particularly rare occurrence. When going first, Mew can do the same thing on turn two, with the added advantage of Boss's Orders to delete a threat of your choice.
Mew also has healing via Mew V's Psychic Leap, insane bulk with 310 HP plus Oricorio, damage modifiers to OHKO anything, and attackers of all Prize values to win Prize trades. It has free retreat, insane draw power, Energy acceleration, and even a Shred-style attack to break through Safeguard-like effects. The entire Fusion Strike engine is nuts. It's just nuts.
But you probably know all of that already. If you've played a dozen games online, or even half that many, you've almost certainly run into Mew at some point. You're likely here for one of two reasons: to learn how to play Mew better, or to learn how to stop it. I'll be discussing both, but I'm not going to sugarcoat it. The reality isn't very glamorous, and you may not leave feeling satisfied after hearing what I have to say.
I've called Mew a predictable deck, but I hesitate to use terms like "straightforward" or "one-dimensional." The fact of the matter is that Mew presents the player with a ridiculously complex sequencing puzzle every single turn. You can simply click the glowing cards and still achieve Knock Outs and wins, but your win rate over time will be noticeably lower than a player with lots of experience. In addition, Mew has a variety of utility attacks that you sometimes have to use. In its perfect world, it will simply blow Pokemon up turn after turn until it wins, and that's how some games go. But when things don't go perfectly, some ingenuity is required.
Playing Against Mew
When I say that Mew is predictable, I'm mostly referring to what it can and can't do to the opponent. For example, my favorite thing about playing against Mew is that most lists can't disrupt my hand. Therefore, I can build combos in my hand over time, and find paths to victory well in advance. This is particularly true for Inteleon decks, which can spam Shady Dealings to build up the hand and set up checkmate scenarios, often involving Galarian Moltres, but regardless of what deck you're playing, Mew's lack of hand disruption is something you can and should keep in mind.
---
This concludes the public portion of this article.
If you'd like to continue reading, consider purchasing a PokeBeach premium membership! If you're not completely satisfied with your membership, you can request a full refund within 30 days.
Each week we post high-quality content from some of the game's top players. Our article program isn't a corporate operation, advertising front, or for-profit business. We set our prices so that we can pay the game's top players to write the best content for our subscribers. Each article topic is carefully selected, goes through multiple drafts, and is touched up by our editors. We take great pride in our program!