"Brilliant Stars" Hobby Store Freebies: Massive Posters, Mouse Pads, and More!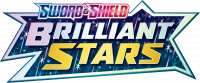 We now have photos of the items that come in the Brilliant Stars marketing kit!
Hobby stores can order these marketing kits for each set. They contain freebies to give out to fans and advertisements for the stores to display. Stores give out these items to customers at their own discretion, but you usually get them when making Pokemon TCG purchases.
For fans, the kit includes three items. The first is 100 Charizard stickers that are about 3.5″ by 3.5″.
The second are 50 calendars that are actually stickers. They are 8.5″ by 11″, or the size of a sheet of paper.
The third are 50 massive posters featuring all 898 Pokemon released before Legends: Arceus brought the number up to 905. It even shows their regional forms and Mega Evolutions. The posters are a whopping 37.5″ by 27″. They're folded into six sections just to fit into the shipping box. They're also printed on glossy poster paper.
For the stores, the kit includes a lenticular card (as usual), a counter display (as usual), and a first for these marketing kits — two mouse pads. These items are intended for stores to keep so they can advertise the Pokemon TCG, but they do give them out to fans on occasion.
The lenticular card changes from one card to the other as you change your viewing angle. It's 17.25″x24″. It has two holes at the top to hang it up. The back features the Brilliant Stars set logo.
The metallic counter display is 8.5″x11″. It can be propped up.
The mouse pad is a typical size and is made of rubber.
TPCi dictates these items can't be sold to anyone since the kits are free for hobby stores to order. Be sure to check with your local hobby store to see if they ordered one! Hobby stores are only able to order these kits if they purchase a certain number of Pokemon TCG products or host tournaments.
Thanks goes to @psapikachu for sending us these photos!