Hisuian Growlithe and Feather Ball Distribution at GameStop!
We can reveal GameStop will be holding a special code distribution for Legends: Arceus!
If you go to GameStop between February 25th and March 13th, you'll receive a code to download a Hisuian Growlithe and 20 Feather Balls. You can get the code from the counter for free.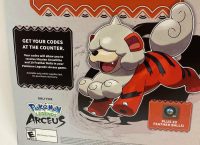 No details were revealed about the Hisuian Growlithe's stats, but presumably it should have something special about it.