Cyclone Kicking Yourself: An Introspective View
What's up PokeBeach readers, as I write this I am flying back from Portland, OR where I competed in the most recent Regional Championships in our circuit. While I didn't perform to my usual standard, I did learn many things this weekend that I will share in this article. I will also include the Lucario-GX / Lycanroc-GX deck that I played in Portland, explain my thoughts on the deck, and detail some possible card changes that may make the concept more viable. With many subjects to cover, I will jump straight into the article.
Processing a Slump as a Player: Get in the Zone
In any competitive game, it is a wise idea to have confidence, but it is often wise to be realistic when it is possible to do so. At the beginning of the 2017-2018 season, I was coming fresh off of my day two advancement at the 2017 World Championships and I felt like I was on top of the world. I used this confidence early on to fuel my desire to play test and ultimately started the season off strongly. During the first quarter of the season, here is what I accomplished by only playing in these events:
Top 16 Fort Wayne, IN Regional Championships
Top 32 Hartford, CT Regional Championships
Top 64 Daytona Beach, FL Regional Championships
Top 128 London, UK European International Championships
Don't get me wrong, I don't want to use this article as a way to boost myself as a player, but I felt during this time period that I was in 'the zone'. I was talking with Igor Costa over this weekend and he was explaining to me that he has experienced his stronger showings while being in 'the zone'. So you may be wondering to yourself, what is 'the zone'? While it can be difficult to explain, 'the zone' can be a numerous amount of things that equal to your current success. With my personal experience and with some insight after talking to Igor Costa, here are some determining factors: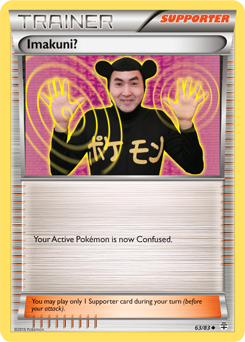 Creating Decks and Defining the Metagame Curve
When you are on top of your game, you can gain an extra skill set, the ability to metagame properly
When you fully understand the meta game, you are clairvoyant, allowing yourself to pick the best deck
In some circumstances, the best deck may be a new deck, something that you have created yourself
In order to get to this level of playing skill, it is advisable to test for a specific tournament excessively
Confidence in Your Own Capabilities as a Player
Know what you are capable with by asking yourself questions to determine that placement
Monitor where you have shown growth as a player and see what you have put in place to achieve that growth (ie. winning a League Cup, making Top 64 at a Regionals, etc.)
It is better to excel at what you know than to doubt yourself in the process
Networking with Other Players
Sharing of ideas, strategies, and lists with other players
Playing with players of a 'lesser' caliber of your own to showcase the difference of skill set to set a grounding point
Playing with players of a more skilled caliber than your own to showcase the difference of skill set to set a hypothetical ceiling point
After looking at all of these different skills that can be used to propel yourself closer to the top as a more skilled player, I can see how I even I can continuously grow as a player. While at the beginning of the season I was hungry for success, I have become jaded by my success, which has likely been the cause for my recent 'slump'. It can be difficult to admit as a player with any skill set on where you stand, but it is also humbling to discover how much you need to grow. That being said, I want to quickly re-visit my earlier testing regimes to re-evaluate where I am at to eventually get to a level where I can compete with players who are at the top of their game. I would also like to say that I am by no means mocking myself or downplaying where I am at as a player; I need to be level headed from time-to-time to be able to see where I need to grow. My upcoming journey that includes travelling for Internationals will be the test that I need to pass — whether I do well or not is ultimately in my hands.
As we head into a meta game that is somewhat fresh and somewhat new, there were multiple different decks thriving in the Pacific North West this weekend. If you were at Portland, you would know and if you weren't at Portland, your mind must be blown…
---
This concludes the public portion of this article.
If you'd like to continue reading, consider purchasing a PokeBeach premium membership! If you're not completely satisfied with your membership, you can request a full refund within 30 days.
Each week we post high-quality content from some of the game's top players. Our article program isn't a corporate operation, advertising front, or for-profit business. We set our prices so that we can pay the game's top players to write the best content for our subscribers. Each article topic is carefully selected, goes through multiple drafts, and is touched up by our editors. We take great pride in our program!