All Arrows Point Towards Anaheim — Decidueye-GX / Vileplume for Worlds
Hello PokeBeach fans and subscribers! I'm glad to be back once again to tell you about one of my top deck choices for the upcoming 2017 Pokemon Trading Card World Championships! This is the third year in a row that I will have qualified for and competed in Worlds. I haven't done too hot in the past, but this year I couldn't be more excited and I've been testing a lot with my friend and fellow PokeBeach writer Caleb Gedemer, so I'm extra prepared this year!
This year a deck that I have been testing a lot for Worlds is Decidueye-GX / Vileplume. We all know that VD has been a strong deck since its insurgence into our meta and it also recently took a huge finish taking second place at the NAIC in the hands of none other than PokeBeach's very own John Kettler. You might be wondering what makes it a strong deck choice still, can it handle the new archetypes that come from Burning Shadows, and what cards does it gain from the new set? All this and more will be answered below, so stay tuned folks.
What Does VD Gain From Burning Shadows?
The biggest thing that VD gains from Burning Shadows is Guzma. John Kettler's list for NAIC included one copy of Olympia and since you only have two Float Stone in the deck, you don't always get both or even one down before you set up Item-lock. So, having that switching option in Supporter form was great. Now you can have that with the effect of Lysandre as well, so you can effectively cut Olympia and play a combination of Lysandre and Guzma. It also gains a format shift which I will discuss in one of the next sections.
What Makes Vileplume the Right Partner for Decidueye?
Vileplume is the best partner for Decidueye overall, and absolutely the best version of the deck for Worlds. I know there are some benefits to the version Igor played at NAIC with Tapu Koko, Alolan Ninetales-GX, and Espeon-EX. All of those can help in certain matchups and make them even better, but your Volcanion matchup becomes dreadful and I don't think you can afford have a bad matchup to Volcanion because it should be relatively popular at Worlds. I also think having Plume gives you more free wins against decks because some decks completely falter under Item-lock, and honestly, we all know that a turn one Item-lock can win a game on its own if your opponent has a handful of Items. Also, since you only need to win four rounds to advance to day two, it could be a simple day if you just lock your opponent out of doing on the first turn.
Why Is It Strong Right Now?
VD is very strong right now because of the format shift due to the new archetypes that came from Burning Shadows. Two of the biggest decks that gave VD the most trouble were Espeon-GX / Garbodor and Drampa-GX / Garbodor, which were both highly played before. I don't expect either of those decks to be in high numbers at worlds because Gardevoir-GX has a good matchup against both versions of Garb and Golisopod-GX isn't a favorable matchup for Drampa / Garb either. I think VD is one of the decks with the most positive matchups right now and is at least even with most of the decks that are expected to make up the meta of Worlds. This is the current list I have been testing and it's John Kettler's list with some changes from the new set.
Possible Changes: Cut Lugia-EX for Espeon-EX depending on what you expect to face the most
How Does It Stack Up?
Alolan Ninetales-GX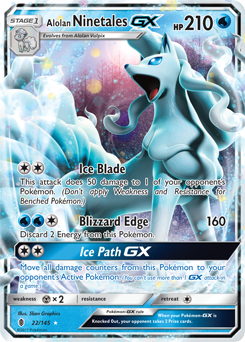 This matchup is very tricky because you need to be careful of a few things: Ice Path GX, the number of Rough Seas in  your opponent's deck, placing Feather Arrow damage correctly, and the new Alolan Ninetales. Obviously, the best way to deal with Alolan Ninetales' Luminous Barrier is with Feather Arrow since you can't attack into it with any Pokemon in your deck besides Vileplume which takes three attachments to power up, so that's not really the best way to go about it. Getting an early Item-lock helps just like any other matchup, but specifically you don't want to give them any time to use Aqua Patch to get multiple attackers going, and it's prudent that you don't let them get any Choice Bands on their Alolan Ninetale-GX. This is because they can hit a Decidueye for 50 with Ice Blade and then finish it off for 190 (with Choice Band) using Blizzard Edge.
Something else they can do if you're not careful enough with your Forest of Giant Plants is wall with the Baby Ninetales and Rough Seas. I have played a game where a single Baby Alolan Ninetales walled me out because I could not find a Forest to save my life, and I even had more Stadiums left than my opponent did.
You also have to be careful where you place your Feather Arrow because only using one can turn into no damage because of Seas, two can turn into 10, and three can turn into only 30. So, you need to factor in those possible damage reductions when setting up KOs for the future. The last things that's also hard to play around is Ice Path, and this is because you usually can't OHKO an Alolan Ninetales-GX unless you play Lugia-EX which requires three Feather Arrow and a Deep Hurricane to do the trick. Most the time you need to get damage built up and then finish off with an attack or two. A properly timed Ice Path from your opponent can set you so far behind if you waste two attacks or multiple Feather Arrows on it. You want to put them in a position where they need to use their GX attack, but it doesn't set you too far back and hopefully doesn't give them a KO. You can also try to build up chip damage with Shaymin-EX's Sky Return and some Feather Arrows so they aren't likely to use Ice Path just yet.
Also, if you play Espeon-EX it can help tremendously if you build up enough damage on their Ninetales and just devolve them all, take multiple KOs, and leave them with no attackers besides maybe a Tapu Lele-GX.
---
This concludes the public portion of this article.
If you'd like to continue reading, consider purchasing a PokeBeach premium membership! If you're not completely satisfied with your membership, you can request a full refund within 30 days.
Each week we post high-quality content from some of the game's top players. Our article program isn't a corporate operation, advertising front, or for-profit business. We set our prices so that we can pay the game's top players to write the best content for our subscribers. Each article topic is carefully selected, goes through multiple drafts, and is touched up by our editors. We take great pride in our program!