'Evolutions' Prerelease Promos!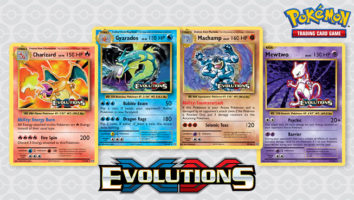 Charizard, Gyarados, Machamp, and Mewtwo will be the promo cards fans receive for playing in Evolutions prerelease tournaments! Unlike the last set, the cards are once again in-set reprints with a stamp of the set logo. They do not have unique promo numbers.
Evolutions prerelease tournaments will take place from October 22nd to 30th, which is two weeks before the set is released in stores. To find a prerelease tournament near you, you can use the Event Locator on Pokemon.com.
Each participant will receive a Prerelease box containing a 22-card Evolution pack, four 10-card booster packs, and an exclusive foil promo card. The Evolution pack provides a solid foundation which, along with the booster packs and Energy provided by the Tournament Organizer, is used to construct a 40-card deck. At the end of the tournament, Tournament Organizers may award three additional booster packs to all players or may give them all to top finishers.