Japanese 'Sun' and 'Moon' Expansions and Decks in December!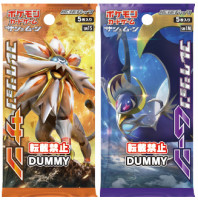 A new era of the Pokemon TCG is about to begin! Collection Sun and Collection Moon, the first expansion packs for the Pokemon Sun and Moon games, will be released in Japan on December 9th. Each set contains 60 cards, not including secret rares, for a total of over 120 cards! These sets will also feature the debut of Pokemon GX, the new, powerful Pokemon mechanic that was announced to much fanfare at Worlds earlier this month.
UPDATE: Pre-Orders for Collection Sun and Moon have revealed that booster boxes will now contain 30 packs each, as opposed to the 20 pack boxes that were standard for the XY and BW eras. This also means the boxes will be more expensive, with an MSRP of ¥4,860 per box.
Three new decks will also be released on the same date: 'Grass Starter Set," "Fire Starter Set," and "Water Starter Set," each featuring Rowlet, Litten, and Popplio respectively. Each deck will contain 60 random cards as well as a "GX Marker," which is likely related to the new GX Mechanic.
New TCG merchandise to match the set's artwork, such as deck boxes and sleeves, will also be released at the same time, as well as a "Sun & Moon Premium Trainer Box." The box will cost ¥5000, but it comes with a large variety of products: 10 packs each of Collection Sun and Collection Moon, a deck box, a coin, damage and condition markers, a set of 64 card sleeves, a GX Marker, and 154 additional cards consisting of 46 Trainers and 108 Energy.
The fun continues in January with another concept pack set: the Sun and Moon Strengthening Expansion Pack will be released on January 27th, 2017. Like many of the concept pack sets, this set will be comprised entirely of holo cards. Some of the cards will be reprints from the Starters Sets, but the rest will be new. There will be 51 total cards in the set, not including secret rares. Each pack comes with five cards, one of which is a holo Energy card.
On the same January date, three "Special Sets" featuring the Alolan Starter Pokemon will also be released. Each set includes a promo card of the Starter's final evolution, one Collection Sun pack, one Collection Moon pack, and two Strengthening Expansion packs.
Thanks to Bangiras for all of the translations!