PokéBeach's Dream-A-Mon Competition – Gen VII: Starter Evolutions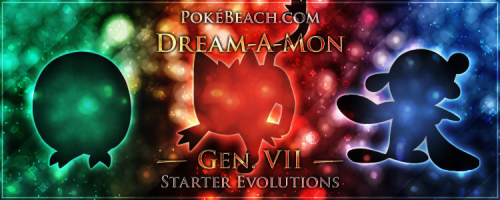 Welcome to the PokeBeach Dream-A-Mon Contest!
In this contest, you will be putting your imagination and art skills to the test to compose a design for the starter evolutions of the newly revealed starter Pokemon for Sun/Moon: Rowlet, Litten, and Popplio. This contest is specifically for their next evolutions — or in TCG terms, their "Stage 1" evolutions.
How will this be judged?
Members (Non-Judges) may like designs in the submission post, which should be made in this thread to count. Each like from a member will be worth 5 points. These will be promptly counted starting midnight EDT on August 31st.
Participants in this contest are allowed to vote for other entries or gain views, interest, and additional points by advertising their submission post (made in this thread) in their signatures on PokéBeach or elsewhere online (Facebook, Twitter, etc). Utilize this to your advantage and refer people to the forum to vote for you!
Judges: PokéBeach's Art Staff and the Administrator (Shining Raikou) will grade each design for additional bonus points after the submission deadline has passed (paying close attention to the "like" count). Each "Like" from a sitting Art Staff member or Forum Admin (the Judges for this contest) will be worth 10 additional points.
The best part about this contest is that there will 4 chances to win! The first winners (1st, 2nd, and 3rd place) will be announced for best overall design concepts. Later, there will be a special award for the design that came closest to the official artworks (whenever the official art for the starter evolutions have been revealed.)
Criteria
The judges will award bonus points based on the following:
Appearance – Visual Attraction: colors, lines, proportions, shading
Concept – Continuity/Themes: basic form, species, types. The overall plausibility of the character design
Dex/Description – How well the overall idea visually connects to the "story" or dex entry
Originality – Idea/Innovation: Showing something new or bold through graphic portrayal of the final designs, artistic methods, or the overall design
Pay attention to these to grab your share of the bonus points!
Winners
The best overall design concepts and the closest design to the official artworks will be featured on PokéBeach's Facebook Page and a forum thread congratulating the winners. In addition, the 1st, 2nd, 3rd place winners, and the designer of the entry decided to be closest to the official designs, will all receive a special honor (to be revealed) if they have a PokéBeach forums account.
Rules:
Do NOT plagiarize. You are to come up with the entire design by using your imagination. Any instances of plagiarism will result in an immediate disqualification and ban. We will reverse image search and double check all entries for plagiarism.
Please post all entries in this thread. Your submission post will include everything in the below form.
If you decide to post it, you may not edit your post after the entries have stopped being accepted. Excessive editing of your post may lead to disqualification. Keep it to a bare minimum (1-2 times) if you have to do it at all.
You are to come up with the design entirely by yourself. That means no one else can help with the designing/rendering.
Any methods of artwork will be acceptable (Digital, hand drawn, painted, other mediums/methods)
Only the submissions that show clear effort put into their designs will be accepted. Those who rush and submit very sloppy drawings may be disqualified. Do not submit a 10 minute drawing in Microsoft Paint or a very rough drawing to this contest. Your artwork should show that care was taken and that you put thought into creating these new Pokemon.
If by chance the official Pokemon designs are announced during the duration of this contest, it will immediately end after it becomes public. Submissions will then be judged. Additional entries may be accepted after the reveal under this possible situation, but would not be eligible to win.
Important Dates
Final Submissions are due by AUGUST 30TH at 11:59 PM EDT! You may not submit any entries after this date or make any kind of additional submission/edit to a post. The names of your file/image will be taken at the end of the contest, so don't attempt to pull a fast one! We will know.
Judging will begin immediately after the contest concludes and winners will be announced within a week.
How to Enter
Now it's time to put your best foot forward and come up with the most awesome designs you can!
To enter, make a post in this thread with the following things contained in it:
Your fan art in .jpg or .png format. for your entry. Giant images will be resized. Please do not exceed 500×500 px. per image. Only one Pokemon/evolution chain should be represented as your entry in your official submission post in this thread, but we don't mind if you display other artworks of potential starter evolutions you may have come up with. However, they will not count when the judges award bonus points.
Names and dex entries for your new Pokemon designs.
Optional: Introduction as the artist/designer, comments about your entry and design process. Anything you would like voters to know about you or your entry.
Remember that any posts that are incomplete without dex entries or artwork will not be counted!
Thanks for reading, and good luck to all participants!