Darkness, Metal, and Fairy Energy Retro Reprints!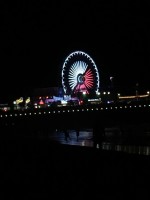 I tried to post this last night but my car blew up. Then when AAA came to tow it, their truck's back tires blew out. Then when I finally got home at 3 AM, the power was out. Ah, California heat. :p Also hundreds of people were playing Pokemon GO at the Santa Monica pier last night — almost everyone on the pier itself. It was one of the most surreal experiences of my life. It was like a convention just for Pokemon; there were times where you'd look around and literally everyone around you was playing it and talking about it — hundreds and hundreds of people of all ages. At the end of the night they even changed the Ferris wheel lights to look like a Poke Ball (thanks @DoowyBlek for the photo).  If an Articuno ever spawns there, it would be apocalyptic chaos.
As posted a few weeks ago, players who attend Japan's next set of Gym tournaments will get one of nine basic Energy promos featuring Base Set's original card templates. Japan's official Pokemon Twitter has now confirmed Darkness, Metal, and Fairy Energy will be joining the original Energy cards as retro reprints even though said Energy were not in existence at the time. The nine basic Energy will almost certainly be included in our November Evolutions set.