Fall 2016 'Battle Heart' Tins!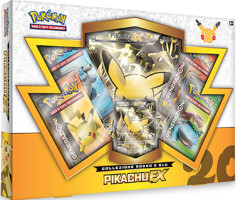 We've exclusively learned that fall 2016's tins will be named the "Battle Heart Tins" and will be released around October 12th. Each tin will feature either Volcanion-EX, Magearna-EX, or Pikachu-EX.
Oddly, an alternate art reprint of Pikachu-EX will be released this September in the "Red and Blue Collection: Pikachu-EX Box." That's two Pikachu-EX releasing within a month or so of each other. But I guess most fans can't get enough of Pikachu anyway?
It's not too Farfetch'd to assume Volcanion-EX and Magearna-EX will be reprints from XY11 with artwork we've never seen before — and potentially Pikachu-EX too. But maybe they'll surprise us with completely new cards, especially since this is two Pikachu-EX releasing right near each other.
Volcanion-EX – Fire / Water – HP180
Basic Pokemon

Ability: Steam Up
Once during your turn (before your attack), you may discard 1 Fire Energy card from your hand. If you do, during this turn, the attacks of your Basic Fire Pokemon do 30 more damage to your opponent's Active Pokemon.

[R}[R][C] Volcanic Heat: 130 damage. During your next turn, this Pokemon can't attack.

When a Pokemon-EX has been Knocked Out, your opponent takes 2 Prize cards.

Weakness: Water (x2)
Resistance: none
Retreat: 3

---

Magearna-EX – Metal – HP160
Basic Pokemon

Ability: Mystic Heart
Prevent all effects of your opponent's attacks, except damage, done to each of your Pokemon that has [M] Energy attached to it.

[M][C][C] Soul Blaster: 120 damage. During your next turn, this Pokemon's Soul Blaster attack does 60 damage.

When a Pokemon-EX has been Knocked Out, your opponent takes 2 Prize cards.

Weakness: Fire (x2)
Resistance: Psychic (-20)
Retreat: 1