Video: 'Volcanion and the Mechanical Magearna' Trailer #3!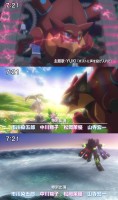 A new trailer for Volcanion and the Mechanical Magearna just aired on Japanese variety show Oha Suta.
While the trailer likely doesn't contain scenes that will be in the final film, it does show that Zygarde Complete Forme will have at least a cameo in the movie, if not a major role.
Magearna doesn't seem to be able to talk. It makes robotic sound effects instead. As revealed previously, Volcanion can talk.
The trailer also shows off two blond characters who will appear in the film. They are the prince and princess of the Azoth Kingdom, named Racel and Chymia, respectively. The prime minister of Azoth Kingdom, Jarvis, was revealed previously. He's after Magearna's Soul Heart and he seems to be able to control Mega Evolutions with his staff. It's up to Ash and Volcanion to rescue Magearna.
Part of the movie's ending song, Throw Your Voice in the Mailbox, debuts in the trailer as well.