New Pokemon Center Opening in Tokyo's Skytree Town!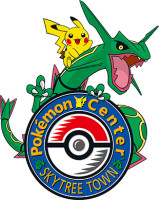 Japan's eleventh Pokemon Center will be opening in Tokyo on July 6th!
The store will be located at the base of the Tokyo Skytree Tower in Skytree Town (I've been there! It's an awesome place to shop. :p). Fittingly, this Pokemon Center's mascot is the Sky High Pokemon, Rayquaza.
The other ten Pokemon Centers are located in Tokyo (opened in 1998, moved in 2007, and then moved again in 2014 and renamed "Pokemon Center Mega Tokyo"), in Nagoya (2002), in Fukuoka (2003), in Sapporo (2005), in Yokohama (2005), in Osaka (2010), in Tohoku (2011), in Tokyo Bay (2013), in Hiroshima (summer 2015), and in Kyoto (March 2016).
Besides New York's, I wonder when we'll start to get these Pokemon Center stores in America…