'CoroCoro' Teases 'Sun' and 'Moon' News in Next Issue
Photos fr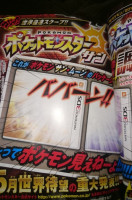 om the April issue of CoroCoro started leaking overnight in Japan, revealing images of the covers from the upcoming games Pokemon Sun and Pokemon Moon. However, the box art has been concealed with a white shine to cover up the Pokemon.
In the text accompanying the image, the magazine states that readers aren't allowed to see the new Pokemon yet, but it promises that it will showcase an "important reveal" about Sun and Moon in the upcoming May issue.
As expected, Magearna has been revealed to be a Steel/Fairy Pokemon.
The magazine also revealed a new arcade game called Pokemon Ga-Olé, which may be the successor to Pokemon Battrio and Pokemon Tretta. The game uses electronic Pokemon chips like the aforementioned arcade games.
CoroCoro releases on the 15th next month, so we'll likely start seeing Sun and Moon leaks around May 12th.