April's League Challenge Promo: Greninja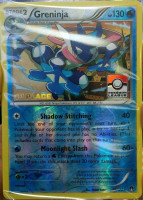 The League Challenge promo for this month is a stamped reverse holo of Greninja from BREAKpoint.
I don't regularly report on League Challenges because they usually award irrelevant reprints, but this month it's actually a decent (and pretty) card. Thanks goes to Chen J. for the photo!
League Challenges are small tournaments that take place at the end of each month at your local Pokemon League. There is a tournament for each age division and the top four finishers are awarded a reprinted promo, which changes each month. Each promo has a stamp for 1st place, 2nd place, 3rd place, or 4th place.
For more information about League Challenges and to find one near you, check out this page on Pokemon.com.