Toys R Us 'Pokemon Day' Only for Kids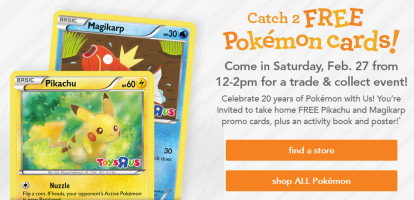 As posted a few weeks ago, Toys R Us will be giving out holo Generations Pikachu and Magikarp stamped promo cards for February 27th's Pokemon Day. They'll also be giving out an activity book and a poster featuring the first 151 Pokemon.
Unfortunately, Toys R Us's website makes it clear the event is not meant for teens and adults: "Event intended for children, ages 6-up. Parental supervision required at all times. All giveaways and event materials available while supplies last and distributed to participating children only. Limit one per child. Quantities limited; no rain checks."
Of course, your mileage may vary.
So who's ready to beat up some kids for their Pokemon cards? :p