Full 'BREAKpoint' Set List!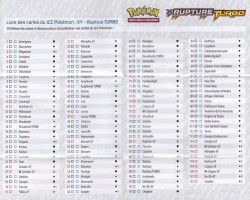 Thanks to @Cartazone on Twitter, we now have the full set list for BREAKpoint! (In French!)
Our news team has translated the set list from French, and below you'll find the Japanese set spoilers in order of the English set (meaning the text below isn't the English wording).
Our English set is quite the mashup! The cards come from July's Emboar-EX vs. Togekiss-EX Deck, October's Golduck BREAK + Palkia-EX Deck, November's Double Mega BREAK Set: M Aerodactyl-EX + M Mawile-EX + Luxray BREAK, and, for the most part, December's Rage of the Broken Sky. There are 123 cards in total.
BREAKpoint will hit store shelves on February 3rd, with prereleases taking place the two weekend prior.
Don't forget to check out our massive TCGplayer announcement!
Chikorita – Grass – HP60
Basic Pokemon

[C] Tackle: 10 damage.

[G][C] Regrow: 10 damage. Heal 10 damage from this Pokemon.

Weakness: Fire (x2)
Resistance: none
Retreat: 1

---

Bayleef – Grass – HP90
Stage 1 – Evolves from Chikorita

[C] Body Slam: 20 damage. Flip a coin. If heads, your opponent's Active Pokemon is now Paralyzed.

[G][C] Vine Whip: 30 damage.

Weakness: Fire (x2)
Resistance: none
Retreat: 2

---

Meganium – Grass – HP150
Stage 2 – Evolves from Bayleef

Ability: Overgrow
If this Pokemon's remaining HP is 50 or less, this Pokemon's attacks do 70 more damage.

[G][G][C] Green Force: 50 damage. Heal from this Pokemon the amount of damage this attack did to your opponent's Active Pokemon.

Weakness: Fire (x2)
Resistance: none
Retreat: 3

---

Seedot – Grass – HP50
Basic Pokemon

[C] Ram: 10 damage.

Weakness: Fire (x2)
Resistance: none
Retreat: 1

---

Kricketot – Grass – HP60
Basic Pokemon

[G] Bug's Sense: Search your deck for 3 [G] Pokemon, show them to your opponent, then put them into your hand. Shuffle your deck afterward.

Weakness: Fire (x2)
Resistance: none
Retreat: 1

---

Kricketune – Grass – HP90
Stage 1 – Evolves from Kricketot

[C] Screech: During your next turn, if an attack does damage to the Defending Pokemon (after applying Weakness and Resistance), that attack does 60 more damage to that Pokemon.

[G] Slash: 40 damage.

Weakness: Fire (x2)
Resistance: none
Retreat: 1

---

Petilil – Grass – HP50
Basic Pokemon

[G] Aromatherapy: Heal 10 damage from each of your Pokemon.

Weakness: Fire (x2)
Resistance: none
Retreat: 1

---

Lilligant – Grass – HP80
Stage 1 – Evolves from Petilil

[G] Whimper: 20 damage. During your opponent's next turn, if he or she attaches an Energy card to the Defending Pokemon from his or her hand, the Defending Pokemon becomes Asleep.

[C][C] Leaf Slice: 30x damage. Flip 2 coins. This attack does 30 damage times the number of heads.

Weakness: Fire (x2)
Resistance: none
Retreat: 1

---

Durant – Grass – HP70
Basic Pokemon

[G] Mountain Gnaw: 10 damage. Discard the top card of your opponent's deck.

[G][C] Grind Down: If this Pokemon has any damage counters on it, discard the top 4 cards of your opponent's deck.

Weakness: Fire (x2)
Resistance: none
Retreat: 1

---

Growlithe – Fire – HP70
Basic Pokemon

[C][C] Bite: 20 damage.

Weakness: Water (x2)
Resistance: None
Retreat Cost: 2

---

Arcanine – Fire – HP110
Stage 1 – Evolves from Growlithe

[C] Jump About: 30 damage.

[R][R][C] Flamethrower: 90 damage. Discard 1 energy attached to this Pokemon.

Weakness: Water (x2)
Resistance: None
Retreat Cost: 2

---

Numel – Fire – HP80
Basic Pokemon

[C] Tackle: 10 damage.

[R][R][C] Flame: 40 damage.

Weakness: Water (x2)
Resistance: none
Retreat: 3

---

Camerupt – Fire – HP130
Stage 1 – Evolves from Numel

[C][C] Ram: 30 damage.

[R][R][C] Eruption: 80+ damage. Each player discards the top card for his or her deck. This attack does 60 more damage for each Energy card discarded in this way.

Weakness: Water (x2)
Resistance: none
Retreat: 4

---

Emboar-EX – Fire – HP180
Basic Pokemon

[R][C] Spiral Punch: 20x damage. Flip a coin until you get tails. This attack does 20 damage times the number of heads.

[R][R][C][C] Strong Flare: 150 damage. Discard 2 Energy attached to this Pokemon.

When a Pokemon-EX has been Knocked Out, your opponent takes 2 Prize cards.

Weakness: Water (x2)
Resistance: none
Retreat: 3

---

Heatmor – Fire – HP100
Basic Pokemon

[R] Fortified Flame: 20+ damage. If this Pokemon has a Pokemon Tool attached, this attack does 20 more damage.

[R][C][C] Heat Blast: 70 damage.

Weakness: Water (x2)
Resistance: none
Retreat: 2

---

Psyduck – Water – HP60
Basic Pokemon

[C][C] Stampede: 20 damage.

Weakness: Grass (x2)
Resistance: none
Retreat: 1

---

Golduck – Water – HP100
Stage 1 – Evolves from Psyduck

[W] Overturn: 20 damage. Discard a Special Energy attached to your opponent's Active Pokemon.

[W][C][C] Hydro Splash: 70 damage.

Weakness: Grass (x2)
Resistance: none
Retreat: 1

---

Golduck BREAK – Water – HP140
BREAK Evolution

Ability: Hyper Trans
As often as you like during your turn (before your attack), you may move a Basic Energy from 1 of your Pokemon to another 1 of your Pokemon.

This Pokemon has the attacks, Abilities, Weakness, Resistance, and Retreat Cost of the Golduck it Break Evolved from.

---

Slowpoke – Psychic – HP70
Basic Pokemon

[C] Headbutt: 10 damage.

[C][C] Awesome Tail: Search your deck for a Pokemon, reveal it, then put it in your hand. Shuffle your deck afterward.

Weakness: (x2)
Resistance:
Retreat:

---

Slowbro – Water – HP100
Stage 1 – Evolves from Slowpoke

[W] Careless Hand: 10+ damage. Flip a coin. If heads, this attack does 50 more damage.

[C][C][C] Miracle Home Run: When you use this attack, if you have 1 Prize card remaining, you win the game.

Weakness: Grass (x2)
Resistance: none
Retreat: 2

---

Slowking – Water – HP100
Stage 1 – Evolves from Slowpoke

Ability: King's Inspiration
Once during your turn (before your attack), you may flip a coin. If heads, choose an Energy attached to your opponent's Active Pokemon and move it to 1 of his or her Benched Pokemon.

[W][C] Psych Up: 40 damage. During your next turn, this Pokemon's Psych Up attack does 40 more damage.

Weakness: Grass (x2)
Resistance: none
Retreat: 2

---

Shellder – Water – HP60
Basic Pokemon

[W] Shell Blade: 10+ damage. Flip a coin. If heads, this attack does 10 more damage.

Weakness: Grass (x2)
Resistance: none
Retreat: 2

---

Shellder – Water – HP60
Basic Pokemon

[W][C] Clamp: Flip a coin. If tails, this attack does nothing. If heads, your opponent's Active Pokemon is now Paralyzed.

Weakness: Grass (x2)
Resistance: none
Retreat: 1

---

Cloyster – Water – HP100
Stage 1 – Evolves from Shellder

[W] Sudden Clamp: 10 damage. If this Pokemon evolved from Shellder during this turn, the opponent's Active Pokemon is now Paralyzed.

[W][C][C] Surf: 70 damage.

Weakness: Grass (x2)
Resistance: none
Retreat: 2

---

Staryu – Water – HP40
Basic Pokemon

[W] Smack: 20 damage.

Weakness: Grass (x2)
Resistance: none
Retreat: 2

---

Gyarados-EX – Water – HP180
Basic Pokemon

[C] Wet Weather: Flip a coin until you get tails. For each heads, search for your deck for a [W] Energy card and attach it to this Pokemon. Shuffle your deck afterwards.

[W][W][C][C] Splash Bang: 130 damage. Does 10 damage to each of your Benched Pokemon.

When a Pokemon-EX has been Knocked Out, your opponent takes 2 Prize cards.

Weakness: Lightning (x2)
Resistance: none
Retreat: 4

---

M Gyarados EX – Water – HP240
Mega Evolution – Evolves from Gyarados-EX

When 1 of your Pokemon becomes a Mega Evolution, your turn ends.

[C][C][C][C] Blast Geyser: 120+ damage. You may have this attack do 20 more damage times the number of [W] Energy attached to this Pokemon. If you do, discard the top 2 cards from your deck.

When a Pokemon-EX has been Knocked Out, your opponent takes 2 Prize cards.

Weakness: Lightning (x2)
Resistance: none
Retreat: 2

---

Lapras – Water – HP120
Basic Pokemon

[W] Errand Running: Search your Deck for a Trainer card, reveal it to your opponent, and put it into your hand. Shuffle your deck afterwards.

[W][W][C] Water Spray: 80+ damage. Flip a coin. If heads, this attack does 20 more damage.

Weakness: Metal (x2)
Resistance: none
Retreat: 2

---

Corsola – Water – HP80
Basic Pokemon

[C][C] Spike Cannon: 30x damage. Flip 2 coins. This attack does 30 damage times the number of heads.

[C][C][C] Power Gem: 50 damage.

Weakness: Grass (x2)
Resistance: none
Retreat: 1

---

Suicune – Water – HP120
Basic Pokemon

Ability: Wind Protection
As long as this Pokemon is your Active Pokemon, prevent all effects of your opponent's attacks, except damage, done to each of your Pokemon. (This Ability does not remove existing effects.)

[W][W][W] Aurora Beam: 110 damage.

Weakness: Grass (x2)
Resistance: none
Retreat: 1

---

Palkia-EX – Water – HP180
Basic Pokemon

[W][W] Aqua Turbo: 40 damage. Search your deck for 2 [W] Energy and attach them to 1 of your Benched Pokemon. Shuffle your deck afterwards.

[W][W][W][W] Pearl Hurricane: 120 damage. Choose 1 of your opponent's Benched Pokemon. This attack does 30 damage to it.

When a Pokemon-EX has been Knocked Out, your opponent takes 2 Prize cards.

Weakness: Grass (x2)
Resistance: none
Retreat: 2

---

Manaphy-EX – Water – HP120
Basic Pokemon

Ability: Aqua Cube
Each of your Pokemon that has any [W] Energy attached to it has no Retreat Cost.

[W][W] Mineral Pump: 60 damage. Heal 30 HP from each of your Benched Pokemon.

When a Pokemon-EX has been Knocked Out, your opponent takes 2 Prize cards.

Weakness: Grass (x2)
Resistance: none
Retreat: 1

---

Tympole – Water – HP60
Basic Pokemon

[W] Clamor: 10 damage.

[C][C] Round: Does 10 damage times the number of your Pokemon that have the Round attack.

Weakness: Grass (x2)
Resistance: none
Retreat: 1

---

Palpitoad – Water – HP90
Stage 1 – Evolves from Tympole

[W][W] Frog Hop: 20 damage. Flip a coin. If heads, this attack does 20 more damage.

[W][W][W] Mud Shot: 60 damage.

Weakness: Grass (x2)
Resistance: none
Retreat: 3

---

Seismitoad – Water – HP150
Stage 2 – Evolves from Palpitoad

[W] Sop Up: Choose up to 3 Energy cards from your discard pile and attach them to this Pokemon.

[W][W][W][W] Rumble Fall: 90 damage. Your opponent's Active Pokemon is now Confused. During your opponent's next turn, the Defending Pokemon can't retreat.

Weakness: Grass (x2)
Resistance: none
Retreat: 3

---

Ducklett – Water – HP60
Basic Pokemon


[C] Surprise: 20 damage. Flip a coin. If tails, this attack fails.

Weakness: Lightning (x2)
Resistance: Fighting (-20)
Retreat: 1

---

Swanna – Water – HP80
Stage 1 – Evolves from Ducklett

[C] Wing Attack: 20 damage.

[C][C][C] Brave Bird: 80 damage. This Pokemon does 20 damage to itself.

Weakness: Lightning (x2)
Resistance: Fighting (-20)
Retreat: 0

---

Froakie – Water – HP60
Basic Pokemon

[W] Bubble: Flip a coin. If heads, your opponent's Active Pokemon is now Paralyzed.

Weakness: Grass (x2)
Resistance: none
Retreat: 1

---

Frogadier – Water – HP70
Stage 1 – Evolves from Froakie

[W] Water Clone: Search your deck for up to 3 Frogadier and put them on your Bench. Shuffle your deck afterward.


Weakness: Grass (x2)
Resistance: none
Retreat: 1

---

Greninja – Water – HP130
Stage 2 – Evolves from Frogadier

[C] Shadow Slip: Until the end of your opponent's next turn, each Pokemon he or she has in play, in his or her hand, and in his or her discard pile has no Abilities (including Pokemon newly brought into play).

[W] Gekko Slash: 60+ damage. You may choose 1 [W] Energy attached to this Pokemon and return it to your hand. If you do, this attack does 20 more damage.

Weakness: Grass (x2)
Resistance: none
Retreat: 0

---

Greninja BREAK – Water – HP170
BREAK Evolution – Evolves from Greninja

Greninja BREAK retains the attacks, Abilities, Weakness, Resistance, and Retreat Cost of its previous Evolution.

Ability: Giant Water Shurikan
Once during your turn (before your attack), if this Pokemon is your Active Pokemon, you may discard a [W] Energy from your hand. Then, put 6 damage counters on 1 of your opponent's Pokemon.

---

Electabuzz – Lightning – HP70
Basic Pokemon

[C][C] Knuckle: 20 damage.

Weakness: Fighting (x2)
Resistance: none
Retreat: 2

---

Electivire – Lightning – HP110
Stage 1 – Evolves from Electabuzz

[C][C] Knuckle: 30 damage.

[L][C][C] Electric Slug: 90 damage.

Weakness: Fighting (x2)
Resistance: none
Retreat: 3

---

Shinx – Lightning – H60
Basic Pokemon

[C] Roar: Your opponent switches his or her Active Pokemon with 1 of his or her Benched Pokemon.

[C] Flop: 10 damage.

Weakness: Fighting (x2)
Resistance: Metal (-20)
Retreat: 1

---

Luxio – Lightning – HP80
Stage 1 – Evolves from Shinx

[C] Bite: 20 damage.

[L][C] Thunder Fang: 30 damage. Flip a coin. If heads, your opponent's Active Pokemon is now Paralyzed.

Weakness: Fighting (x2)
Resistance: Metal (-20)
Retreat: 1

---

Luxray – Lightning – HP140
Stage 2 – Evolves from Luxio

[C][C] Bite: 50 damage.

[L][L][C] Back Out: 100 damage. During your opponent's next turn, damage done to this Pokemon by your opponent's Active Pokemon's attacks is reduced by 20.

Weakness: Fighting (x2)
Resistance: Metal (-20)
Retreat: 1

---

Luxray BREAK – Lightning – HP170
BREAK Evolution – Evolves from Luxray

Luxray BREAK retains the attacks, Abilities, Weakness, Resistance, and Retreat Cost of its previous Evolution.

[L][L][C][C] Wild Rush: 130+ damage. Flip a coin until you get tails. For each heads, this attack does 40 more damage.

---

Blitzle – Lightning – HP60
Basic Pokemon

[C] Assault: 20 damage. This Pokemon does 10 damage to itself.

Weakness: Fighting (x2)
Resistance: Metal (-20)
Retreat: 1

---

Zebstrika – Lightning – HP100
Stage 1 – Evolves from Blitzle

Ability: Zebra Zone
As long as this Pokemon is in play, damage from your [L] Pokemon's attacks isn't affected by any effects on your opponent's Active Pokemon.

[C][C] Take-Down Bolt: 50+ damage. If your opponent's Active Pokemon has a [F] Resistance, this attack does 60 more damage.

Weakness: Fighting (x2)
Resistance: Metal (-20)
Retreat: 1

---

Drowzee – Psychic – HP70
Basic Pokemon

[P] Murmur: 10 damage.

[C][C] Focused Wish: 10+ damage. Flip a coin. If heads, this attack does 20 more damage.

Weakness: Psychic (x2)
Resistance: none
Retreat: 1

---

Hypno – Psychic – HP90
Stage 1 – Evolves from Drowzee

Ability: Good Night Baby
Once during your turn (before your attack), you may use this Ability. Both player's Active Pokemon are now Asleep.

[P][P] Zen Headbutt: 50 damage.

Weakness: Psychic (x2)
Resistance: none
Retreat: 2

---

Espeon-EX – Psychic – HP170
Basic Pokemon

[C] Miracle Shine: Devolve each of your opponent's evolved Pokemon and put the highest Stage Evolution card on it into your opponent's hand.

[P][C][C] Psycho Shock: 70 damage. This attack's damage isn't affected by any effects on the Defending Pokemon.

When a Pokemon-EX has been Knocked Out, your opponent takes 2 Prize cards.

Weakness: Psychic (x2)
Resistance: none
Retreat: 1

---

Skorupi – Psychic – HP70
Basic Pokemon

[P][C] Pin Missile: Flip 4 coins. This attack does 10 damage times the number of heads.

Weakness: Psychic (x2)
Resistance: none
Retreat: 2

---

Drapion – Psychic – HP130
Stage 1 – Evolves from Skorupi

[P][P][C] Poison Claw: 70 damage. Your opponent's Active Pokemon is now Poisoned.

[P][P][P][C] Heavy Impact: 130 damage.

Weakness: Psychic (x2)
Resistance: none
Retreat: 4

---

Sigilyph – Psychic – HP90
Basic Pokemon

[C] Reflective Shield: During your opponent's next turn, if this Pokemon takes any damage from an attack, put 5 damage counters on the Attacking Pokemon.

[P][P] Psychic Report: 30 damage. Your opponent reveals his or her hand.

Weakness: Lightning (x2)
Resistance: Fighting (-20)
Retreat: 1

---

Trubbish – Psychic – HP70
Basic Pokemon

[P] Acid Bomb: 10 damage. Flip a coin. If heads, discard an Energy attached to your opponent's Active Pokemon.

Weakness: Psychic (x2)
Resistance: none
Retreat: 2

---

Garbodor – Psychic – HP100
Stage 1 – Evolves from Trubbish

Ability: Garbotoxin
If this Pokemon has a Pokemon Tool card attached to it, each Pokemon in play, in each player's hand, and in each player's discard pile has no Abilities (except Garbotoxin).

[P][C][C][C] Panic Bomb: 60 damage. Your opponent's Active Pokemon is now Poisoned and Confused/

Weakness: Psychic (x2)
Resistance: none
Retreat: 3

---

Espurr – Psychic – HP60
Basic Pokemon

[C] Scratch: 10 damage.

Weakness: Psychic (x2)
Resistance: none
Retreat: 1

---

Meowstic – Psychic – HP90
Stage 1 – Evolves from Espurr

[C] Energy Gift: Choose up to two Energy cards from your hand and attach them to 1 of your Benched Pokemon.

[P][C] Psycho Shot: 40 damage.

Weakness: Psychic (x2)
Resistance: none
Retreat Cost: 1

---

Honedge – Psychic – HP60
Basic Pokemon

[P] Pierce: Put 1 damage counter on your opponent's Active Pokemon.

Weakness: Darkness (x2)
Resistance: Fighting (-20)
Retreat: 2

---

Doublade – Psychic – HP80
Stage 1 – Evolves from Honedge

[P][C] Deep Pierce: Put 3 damage counters on your opponent's Active Pokemon.

Weakness: Darkness (x2)
Resistance: Fighting (-20)
Retreat: 2

---

Aegislash – Psychic – HP140
Stage 2 – Evolves from Doublade

[C][C][C] Sword Pain: Place damage counters on each of your opponent's Pokemon equal to the number of damage counters already on them.

[P][P][C][C] Megaton Slash: 100 damage. Choose 2 of your opponent's Benched Pokemon. This attack does 10 damage to each of them. (Don't apply Weakness and Resistance when damaging the Bench.)

Weakness: Darkness (x2)
Resistance: Fighting (-20)
Retreat: 3

---

Skrelp – Psychic – HP50
Basic Pokemon

[P] Hide: Flip a coin. If heads, prevent all effects of attacks, including damage, done to this Pokemon during your opponent's next turn.

Weakness: Psychic (x2)
Resistance: none
Retreat: 1

---

Phantump – Psychic – HP50
Basic Pokemon

[C] Ascension: Search your deck for a card that evolves from Phantump and put it onto Phantump. (This counts as evolving Phantump.) Shuffle your deck afterward.

Weakness: Darkness (x2)
Resistance: Fighting (-20)
Retreat: 2

---

Trevenant – Psychic – HP110
Stage 1 – Evolves from Phantump

Ability: Seed of Anxiety
If this Pokemon is your Active Pokemon, your opponent's Basic Pokemon's attacks cost [C] more.

[P][C][C] Energy Press: 70+ damage. This attack does 10 more damage for each Energy attached to your opponent's Active Pokemon.

Weakness: Darkness (X2)
Resistance: Fighting (-20)
Retreat: 3

---

Trevenant BREAK – Psychic – HP160
BREAK Evolution – Evolves from Trevenant

Trevenant BREAK retains the attacks, Abilities, Weakness, Resistance, and Retreat Cost of its previous Evolution.

[P][C] Silent Fear: Place 3 damage counters on each of your opponent's Pokemon.

---

Sudowoodo – Fighting – HP90
Basic Pokemon

[F][C] Let's Imitate: If your opponent used a Pokemon's attack during his or her last turn, use that attack as this attack.

Weakness: Water (x2)
Resistance: none
Retreat: 2

---

Gible – Fighting – HP60
Basic Pokemon

[F] Selfish Draw: Discard a card from you hand, then draw 2 cards.

Weakness: Grass (x2)
Resistance: none
Retreat: 1

---

Gabite – Fighting – HP80
Stage 1 – Evolves from Gible

[F] Sand Tomb: 20 damage. The Defending Pokemon can't retreat during your opponent's next turn.

Weakness: Grass (x2)
Resistance: none
Retreat: 1

---

Garchomp – Fighting – HP130
Stage 2 – Evolves from Gabite

[F] Assault Turbo: 60 damage. Choose 1 Energy card in your discard pile and attach it to one of your Pokemon.

[F][F] Biting Pledge: 80+ damage. If your opponent's Active Pokemon is a Pokemon-EX, this attack does 80 more damage.

Weakness: Grass (x2)
Resistance: none
Retreat: 0

---

Pancham – Fighting – HP60
Basic Pokemon

[C] Light Punch: 10 damage.

[C][C] Confront: 20 damage.

Weakness: Psychic (x2)
Resistance: none
Retreat: 2

---

Nuzleaf – Darkness – HP80
Stage 1 – Evolves from Seedot

[D] Jab: 20 damage.

[C][C] Razor Wind: 40 damage. Flip a coin. If tails, this attack does nothing.

Weakness: Fighting (x2)
Resistance: Psychic (-20)
Retreat: 1

---

Shiftry – Darkness – HP140
Stage 2 – Evolves from Nuzleaf

[D][C] Blow Away: Flip 3 coins. If any are heads, look at your opponent's hand. Then discard a number of cards from your opponent's hand equal to the number of heads.

[D][C][C] Tengu Return: 60 damage. Choose 1 Trainer card in your discard pile. Show it to your opponent and put it into your hand.

Weakness: Fighting (x2)
Resistance: Psychic (-20)
Retreat: 1

---

Darkrai-EX – Darkness – HP180
Basic Pokemon

[C][C] Dark Pulse: 20+ damage. Does 20 more damage for each [D] Energy attached to all of your Pokemon.

[D][C][C] Dark Head: 80+ damage. If your opponent's Active Pokemon is Asleep, this attack does 80 more damage.

When a Pokemon-EX has been Knocked Out, your opponent takes 2 Prize cards.

Weakness: Fighting (x2)
Resistance: Psychic (-20)
Retreat: 2

---

Pangoro – Darkness – HP120
Stage 1 – Evolves from Pancham

[D] Parting Shot: 10 damage. Switch this Pokemon with 1 of your Benched Pokemon. During your opponent's next turn, the Defending Pokemon's attacks do 60 less damage.

[D][D][D] Buster Swing: 90 damage. This attack's damage isn't affected by Resistance.

Weakness: Fighting (x2)
Resistance: Psychic (-20)
Retreat: 3

---

Scizor-EX – Metal – HP170
Basic Pokemon

[M] Steel Wing: 20 damage. During your opponent's next turn, this Pokemon takes 20 less damage from attacks.

[M][M] Gale Thrust: 50+ damage. If this Pokemon was on your Bench and became your Active Pokemon this turn, this attack does 60 more damage.

When a Pokemon-EX has been Knocked Out, your opponent takes 2 Prize cards.

Weakness: Fire (x2)
Resistance: Psychic (-20)
Retreat: 2

---

M Scizor-EX – Metal – HP220
Mega Evolution – Evolves from Scizor-EX

When 1 of your Pokemon becomes a Mega Evolution, your turn ends.

[M][M] Iron Crusher: 120 damage. You may either discard a Special Energy attached to your opponent's Active Pokemon or discard a Stadium in play.

When a Pokemon-EX has been Knocked Out, your opponent takes 2 Prize cards.

Weakness: Fire (x2)
Resistance: Psychic (-20)
Retreat: 2

---

Mawile – Steel – HP80
Basic Pokemon

[C] Glare and Bite: 10 damage. Flip a coin. If heads, the Defending Pokemon is now Paralyzed.

[C][C][C] Snapping Bite: 50 damage.

Weakness: Fire (x2)
Resistance: Psychic (-20)
Retreat: 1

---

Ferroseed – Metal – HP60
Basic Pokemon

[M][C] Harden: During your opponent's next turn, if an attack would do 60 or less damage to this Pokemon, prevent that damage.

Weakness: Fire (x2)
Resistance: Psychic (-20)
Retreat: 2

---

Ferrothorn – Metal – HP100
Stage 1 – Evolves from Ferroseed

[M][C] Metal Claw: 40 damage.

[M][C][C] Spike Whip: Does 10 damage to each of your opponent's Pokemon times the number of [C] in their Retreat Cost. (Don't apply Weakness and Resistance for Benched Pokemon.)

Weakness: Fire (x2)
Resistance: Psychic (-20)
Retreat: 3

---

Clefairy – Fairy – HP60
Basic Pokemon

[Y] Sing: Your opponent's Active Pokemon is now Asleep.

[C][C] Double Slap: Flip 2 coins. This attack does 10 damage times the number of heads.

Weakness: Metal (x2)
Resistance: Darkness (-20)
Retreat: 1

---

Clefable – Fairy – HP100
Stage 1 – Evolves from Clefairy

[Y] Moon Barrier: 30 damage. During your opponent's next turn, prevent all effects of attacks, including damage, done to this Pokemon by your opponent's Dragon-type Pokemon.

[Y][C][C] Rolling Attack: 50+ damage. Flip a coin. If heads, this attack does 30 more damage.

Weakness: Metal (x2)
Resistance: Darkness (-20)
Retreat: 1

---

Togekiss-EX – Fairy – HP170
Basic Pokemon

[Y] Wind of Power: 20 damage. You may attach an Energy card from your hand to 1 of your Pokemon.

[Y][C][C][C] Hurricane Wind: 50x damage. Flip 4 coins. This attack does 50 damage times the number of heads.

When a Pokemon-EX has been Knocked Out, your opponent takes 2 Prize cards.

Weakness: Metal (x2)
Resistance: Darkness (-20)
Retreat: 1

---

Spritzee – Fairy – HP50
Basic Pokemon

[C] Beat: 10 damage.

Weakness: Metal (x2)
Resistance: Darkness (-20)
Retreat: 1

---

Aromatisse – Fairy – HP90
Stage 1 – Evolves from Spritzee

[C] Dizzy Roll: 20+ damage. If the Defending Pokemon is a Pokemon-EX, this attack does 40 more damage.

[Y][C] Fairy Wind: 40 damage.

Weakness: Metal (x2)
Resistance: Darkness (-20)
Retreat: 1

---

Dragalge – Dragon – HP110
Stage 1 – Evolves from Skrelp

[P] Bad Poison: The Defending Pokemon is now Poisoned. Put 4 damage counters instead of 1 on that Pokemon between turns.

[W][P] Dragon Pulse: 60 damage. Discard the top card of your deck.

Weakness: Fairy (x2)
Resistance: none
Retreat: 2

---

Rattata – Colorless – HP50
Basic Pokemon

[C] Danger Sense: Draw a card. Then, switch Rattata with 1 of your Benched Pokemon.

Weakness: Fighting (x2)
Resistance: none
Retreat: 1

---

Raticate – Colorless – HP70
Stage 1 – Evolves from Rattata

Ability: Antibodies
This Pokemon can't be affected by any Special Conditions. (Heal any Special Conditions on this Pokemon.)

[C] Dirty Shock: Your opponent's Active Pokemon is now Poisoned. Discard any Pokemon Tools attached to your opponent's Active Pokemon.

Weakness: Fighting (x2)
Resistance: none
Retreat: 0

---

Raticate BREAK – Colorless – HP110
BREAK Pokemon – Evolves from Raticate

BREAK Evolution: This Pokemon has the attacks, Abilities, Weakness, Resistance, and Retreat Cost of the Raticate it Break Evolved from.

[C][C] Super Fang: Put damage counters on your opponent's Active Pokemon until its remaining HP is 10.

---

Dunsparce – Colorless – HP60
Basic Pokemon

[C] Call for Friends: Search your deck for a Basic Pokemon and put it onto your Bench. Shuffle your deck afterward.

[C] Collide: 20 damage.

Weakness: Fighting (x2)
Resistance: None
Retreat Cost: 1

---

Stantler – Colorless – HP90
Basic Pokemon

[C] Bewilder Horn: Flip a coin. If heads, your opponent's Active Pokemon is now Confused.

[C][C] Big Charge: 30+ damage. This attack does 50 more damage if you have a Mega Evolution Pokemon on your Bench.

Weakness: Fighting (x2)
Resistance: none
Retreat: 1

---

Ho-Oh-EX – Colorless – HP180
Basic Pokemon

Ability: Cleansing Flame
Once during your turn (before your attack), if this Pokemon has any basic [R] Energy attached to it, you may heal 50 HP from this Pokemon.

[G][W][L] Elemental Feather: 130 damage. Choose 1 of your opponent's Benched Pokemon. This attack does 30 damage to it. (Don't apply Weakness and Resistance for Benched Pokemon.)


When a Pokemon-EX has been Knocked Out, your opponent takes 2 Prize cards.

Weakness: Water (x2)
Resistance: Fighting (-20)
Retreat: 2

---

Glameow – Colorless – HP60
Basic Pokemon

[C] Catty: Your opponent chooses a card from his or her hand and returns it to the bottom of his or her deck.

[C][C] Scratch: 20 damage.

Weakness: Fighting (x2)
Resistance: none
Retreat: 1

---

Purugly – Colorless – HP100
Stage 1 – Evolves from Glameow

[C][C] Slash: 30 damage.

[C][C][C] Kitty Press: 40 damage. Flip a coin. If heads, this attack does 40 more damage. if tails, your opponent's Active Pokemon is now Paralyzed.

Weakness: Fighting (x2)
Resistance: none
Retreat: 1

---

Furfrou – Colorless – HP80
Basic Pokemon

[C] Fetch: Draw a card.

[C][C] Glare and Bite: 30 damage. Flip a coin. If heads, the Defending Pokemon is now Paralyzed.

Weakness: Fighting (x2)
Resistance: None
Retreat: 1

---

All-Night Party – Trainer
Stadium

Once during each player's turn, that player may remove the Special Condition Asleep from his or her Active Pokemon. If that player does, heal 30 damage from that Pokemon.

This card stays in play when you play it. Discard this card if another Stadium card comes into play. If another card with the same name is in play, you can't play this card.

---

Pokemon Tool: Attach a Pokemon Tool to 1 of your Pokemon that doesn't already have a Pokemon Tool attached to it.

If this card is attached to a Pokemon, at the end of your opponent's turn, discard this card.

When the Pokemon this card is attached to is damaged by an opponent's Pokemon's attack, put 6 damage counters on the attacking Pokemon.

You may play as many Item cards as you like during your turn (before your attack).

---

Delinquent – Trainer
Supporter

Discard a Stadium card in play. If you do, your opponent chooses 3 cards from his or her hand and discards them.

You may play only 1 Supporter card during your turn (before your attack).

---

Fighting Fury Belt – Trainer
Item

Pokemon Tool: Attach a Pokemon Tool to 1 of your Pokemon that doesn't already have a Pokemon Tool attached to it.

The Basic Pokemon this card is attached to gets its max HP increased by 40 and its attacks do 10 more damage to your opponent's Active Pokemon.

You may play as many Item cards as you like during your turn (before your attack).

---

Great Ball – Trainer
Item

Look at the top 7 cards of your deck. You may reveal a Pokemon you find there and put it into your hand. Shuffle the other cards back into your deck.

You may play as many Item cards as you like during your turn (before your attack).

---

Gyarados Spirit Link – Trainer
Item

Pokemon Tool: Attach a Pokemon Tool to 1 of your Pokemon that doesn't already have a Pokemon Tool attached to it.

Your turn does not end if the Pokemon this card is attached to becomes M Gyarados-EX.

You may play as many Item cards as you like during your turn (before your attack).

---

Look at the top 6 cards of your deck. You may choose a basic Energy card you find there and attach it to 1 of your Basic Benched Pokemon. Shuffle the remaining cards back into your deck

You may play as many Item cards as you like during your turn (before your attack).

---

Heal all damage from 1 of your Pokemon. Then, discard all Energy attached to that Pokemon.

You may play as many Item cards as you like during your turn (before your attack).

---

Misty's Determination – Trainer
Supporter

Discard 1 card from your hand. Then, look at the top 8 cards of your deck, choose 1, and put it into your hand. Shuffle the other cards back into your deck.

You may play only 1 Supporter card during your turn (before your attack).

---

Pokemon Catcher – Trainer
Item

Flip a coin. If heads, switch 1 of of your opponent's Benched Pokemon with his or her Active Pokemon.

You may play as many Item cards as you like during your turn (before your attack).

---

Potion – Trainer
Item

Heal 30 damage from 1 of your Pokemon.

You may play as many Item cards as you like during your turn (before your attack).

---

Professor Sycamore – Trainer
Supporter

Discard your hand and draw 7 cards.

You may play only 1 Supporter card during your turn (before your attack).

---

Psychic's Mind Reading – Trainer
Supporter

Your opponent reveals his or her hand. Discard as many cards from your hand as you like, then draw that many cards.

You may play only 1 Supporter card during your turn (before your attack).

---

You may play 2 Time Puzzle at the same time.

– If you played 1, look at the top 3 cards of your deck and put them back on top of your deck in any order you like.

– If you played 2, choose 2 cards from your discard pile, show them to your opponent, and put them into your hand.

You may play as many Item cards as you like during your turn (before your attack).

---

Reverse Valley – Trainer
Stadium

Blue Side: Choose which way this card faces before you play it. This ↓ player's Metal Pokemon take 10 less damage from his or her opponent's Pokemon's attacks.

Red Side: Choose which way this card faces before you play it. This ↓ player's Darkness Pokemon's attacks do 10 more damage to his or her opponent's Active Pokemon.

This card stays in play when you play it. Discard this card if another Stadium card comes into play. If another card with the same name is in play, you can't play this card.

---

Scizor Spirit Link – Trainer
Item

Pokemon Tool: Attach a Pokemon Tool to 1 of your Pokemon that doesn't already have a Pokemon Tool attached to it.

Your turn does not end if the Pokemon this card is attached to becomes M Scizor-EX.

You may play as many Item cards as you like during your turn (before your attack).

---

Tierno – Trainer
Supporter

Draw 3 cards.

You may play only 1 Supporter card during your turn (before your attack).

---

Splash Energy – Special Energy

This card can only be attached to a [W] Pokemon. This card provides [W] Energy only while this card is attached to a [W] Pokemon.

If the [W] Pokemon this card is attached to is Knocked Out by damage from an opponent's attack, return all Pokemon cards to the owner's hand instead of discarding them. (Discard all other cards attached.)

(If this card is attached to anything other than a [W] Pokemon, discard this card.)

---

Gyarados-EX – Water – HP180
Basic Pokemon

[C] Wet Weather: Flip a coin until you get tails. For each heads, search for your deck for a [W] Energy card and attach it to this Pokemon. Shuffle your deck afterwards.

[W][W][C][C] Splash Bang: 130 damage. Does 10 damage to each of your Benched Pokemon.

When a Pokemon-EX has been Knocked Out, your opponent takes 2 Prize cards.

Weakness: Lightning (x2)
Resistance: none
Retreat: 4

---

M Gyarados EX – Water – HP240
Mega Evolution – Evolves from Gyarados-EX

When 1 of your Pokemon becomes a Mega Evolution, your turn ends.

[C][C][C][C] Blast Geyser: 120+ damage. You may have this attack do 20 more damage times the number of [W] Energy attached to this Pokemon. If you do, discard the top 2 cards from your deck.

When a Pokemon-EX has been Knocked Out, your opponent takes 2 Prize cards.

Weakness: Lightning (x2)
Resistance: none
Retreat: 2

---

Manaphy-EX – Water – HP120
Basic Pokemon

Ability: Aqua Cube
Each of your Pokemon that has any [W] Energy attached to it has no Retreat Cost.

[W][W] Mineral Pump: 60 damage. Heal 30 HP from each of your Benched Pokemon.

When a Pokemon-EX has been Knocked Out, your opponent takes 2 Prize cards.

Weakness: Grass (x2)
Resistance: none
Retreat: 1

---

Espeon-EX – Psychic – HP170
Basic Pokemon

[C] Miracle Shine: Devolve each of your opponent's evolved Pokemon and put the highest Stage Evolution card on it into your opponent's hand.

[P][C][C] Psycho Shock: 70 damage. This attack's damage isn't affected by any effects on the Defending Pokemon.

When a Pokemon-EX has been Knocked Out, your opponent takes 2 Prize cards.

Weakness: Psychic (x2)
Resistance: none
Retreat: 1

---

Darkrai-EX – Darkness – HP180
Basic Pokemon

[C][C] Dark Pulse: 20+ damage. Does 20 more damage for each [D] Energy attached to all of your Pokemon.

[D][C][C] Dark Head: 80+ damage. If your opponent's Active Pokemon is Asleep, this attack does 80 more damage.

When a Pokemon-EX has been Knocked Out, your opponent takes 2 Prize cards.

Weakness: Fighting (x2)
Resistance: Psychic (-20)
Retreat: 2

---

Scizor-EX – Metal – HP170
Basic Pokemon

[M] Steel Wing: 20 damage. During your opponent's next turn, this Pokemon takes 20 less damage from attacks.

[M][M] Gale Thrust: 50+ damage. If this Pokemon was on your Bench and became your Active Pokemon this turn, this attack does 60 more damage.

When a Pokemon-EX has been Knocked Out, your opponent takes 2 Prize cards.

Weakness: Fire (x2)
Resistance: Psychic (-20)
Retreat: 2

---

M Scizor-EX – Metal – HP220
Mega Evolution – Evolves from Scizor-EX

When 1 of your Pokemon becomes a Mega Evolution, your turn ends.

[M][M] Iron Crusher: 120 damage. You may either discard a Special Energy attached to your opponent's Active Pokemon or discard a Stadium in play.

When a Pokemon-EX has been Knocked Out, your opponent takes 2 Prize cards.

Weakness: Fire (x2)
Resistance: Psychic (-20)
Retreat: 2

---

Ho-Oh-EX – Colorless – HP180
Basic Pokemon

Ability: Cleansing Flame
Once during your turn (before your attack), if this Pokemon has any basic [R] Energy attached to it, you may heal 50 HP from this Pokemon.

[G][W][L] Elemental Feather: 130 damage. Choose 1 of your opponent's Benched Pokemon. This attack does 30 damage to it. (Don't apply Weakness and Resistance for Benched Pokemon.)

When a Pokemon-EX has been Knocked Out, your opponent takes 2 Prize cards.

Weakness: Water (x2)
Resistance: Fighting (-20)
Retreat: 2

---

Search your deck for a Trainer card, reveal it, and put it into your hand. Shuffle your deck afterwards.

You may play only 1 Supporter card during your turn (before your attack).

---

Gyarados-EX – Water – HP180
Basic Pokemon

[C] Wet Weather: Flip a coin until you get tails. For each heads, search for your deck for a [W] Energy card and attach it to this Pokemon. Shuffle your deck afterwards.

[W][W][C][C] Splash Bang: 130 damage. Does 10 damage to each of your Benched Pokemon.

When a Pokemon-EX has been Knocked Out, your opponent takes 2 Prize cards.

Weakness: Lightning (x2)
Resistance: none
Retreat: 4