Greninja BREAK, Manaphy-EX from 'BREAKpoint'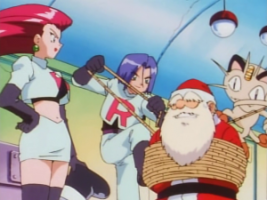 Listen up you little bratty kids! I have Santa tied up in my warehouse at PokeBeach headquarters. He's been there all week with my good friends from Team Rocket (photo evidence above). If you want me to release Santa, you better go tell your family how much you love them right now! Get off the computer, stay off, and run to them! Otherwise I will kill Santa… and keep all of the presents!
Eh hem… hem hem… Pokemon.com has just revealed Manaphy-EX (#32) and Greninja BREAK (#41) from BREAKpoint. The set is our equivalent of Rage of the Broken Sky and will officially hit store shelves on February 3rd.