Worlds 2015 Decks in Stores!
The Worlds 2015 decks are starting to appear in retail stores and are already available for purchase online!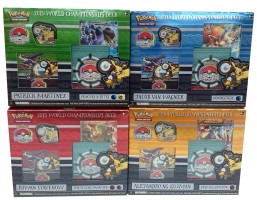 [prod ebay="Pokemon Worlds 2015 deck" amazon="Pokemon Worlds 2015 deck"]
The decks are Masters winner Jacob Van Wagner's "Honorstoise," Seniors winner Patrick Martinez's "Punches 'N' Bites," Juniors winner Rowan Stavenow's "The Flying Hammer," and Juniors runner-up Alejandro Ng-Guzman's "Primal Groudon" deck.
Each deck comes with a sailor Pikachu pin, a Worlds 2015 deck box, and a booklet, all for $12.99.
As with all Worlds decks, the cards in the decks are not legal for tournament play because they have special backs. They're for practicing and you can probably get away with using the cards at Pokemon League.