Psychic Infinity: Mega Mewtwo-EX Strikes Back!
What's up, PokeBeach? Steve here, long time no see. The first two weeks of U.S. Fall Regionals have come and gone, and with only one more weekend of Regionals left before the next expansion hits, I thought I'd give you all an early look at the poster child for this new set: M Mewtwo-EX. What makes this version of Mewtwo good, and exactly how good can it be? Which cards can Mewtwo-EX's brand-new Mega Evolution be paired with most effectively, and where exactly will it fit into the meta? Which decks does M Mewtwo-EX fare well against, and which decks will it likely struggle with? These are questions we will be answering in today's article, as well as taking a look at some different variants of the M Mewtwo-EX deck for both Standard and Expanded as we head into the season of City Championships. But first, I'd like to go over the significance of Cities, and it's importance along the road to qualifying for the World Championships.
City Championships – They are a Big Deal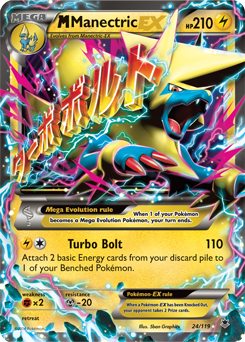 As some of you may already know, last season was the first time I qualified for Worlds since the first-ever Pokemon TCG World Championships back in 2002. One of the biggest reasons I was able to qualify was my performance at Cities last November through January. Last season, I played in a total of 10 City Championships, placing in the top eight of five of those tournaments, advancing to the top four in three of those five, and becoming a finalist in two of them. Just making it into Top 8 in half of those events alone is pretty good, even if it seems a bit lackluster on paper. One of the major reasons why I feel this was such an accomplishment is because of the ever-changing metagame throughout the span of City Championships, which usually run from late November until at least the middle of January. As different decks continue to win events, the meta shifts each week depending on the meta from the previous week's tournaments. This means it isn't as simple as just playing the same 60 cards throughout the entire span of Cities, as the chances of having continued success throughout two months of an ever-changing meta is highly unlikely. Eventually, if a deck continues to do well, someone is going to have a counter ready for that deck, and people playing such a deck will need to make adjustments.
Personally, I played five different decks through last year's Cities, making it into the Top 8 of at least one City Championship with four of those five decks. Doing so required much more than the cards to build these different decks, but also the ability to play each of them, sometimes with very limited playtesting. Switching decks on a dime is often not a good idea, but having a grasp on the meta is definitely key. It allowed me to focus on the next event as soon as I finished up with the current one. Often times I would finish my last City Championship for a weekend and immediately begin thinking about what deck to play the following week. After going over results from multiple Cities which took place that weekend, I would begin narrowing down deck ideas, and by Tuesday or Wednesday at the latest, I'd have my deck idea ready for the upcoming weekend. By Thursday, I tried to have my exact list ready to playtest for a couple days in order to be fully prepared for the next tournament. Fortunately, I had the help of playing in tournaments with accomplished players such as Kevin Baxter, Justin Young, Andrew Mahone, Jason Klaczynski, and Travis Nunlist during last year's Cities. After seeing the different ideas that these guys had come up with, I was able to incorporate my own ideas with the ideas these guys showed in their own decks, as I got to play at least one match against each of them during the tournaments.
The biggest deck idea I received during this run was a M Manectric-EX / Water variant that Travis Nunlist played against me during the Indianapolis marathon, which was also being played by Kevin Baxter at the time. After the conclusion of the Indy marathon in late November, I spent the following week preparing my own variant of this deck, and was able to reach the finals of my next two City Championships with the list I'd come up with before the meta shifted heavily enough to force a change. This deck alone earned me 80 Championship Points in two weeks, bringing my season total up to over 200 at the time. Cities earned me a grand total of 130 Championship points last season, which brought me very close to completing my Worlds invite after having been a semi-finalist at last year's Fort Wayne Regional Championships. As my good buddy and Pokemon TCG mentor Deon Lunsford put it last season, Cities are the bread and butter of the season in terms of qualifying for Worlds. They are a very big deal.
Creativity – Why It Works and How to Use It
As I went over during my last article, the element of surprise is a huge factor in the Pokemon TCG, and creativity is almost always what fuels rogue decks to do well, as people continuously come up with new ideas to incorporate into the existing meta and ways to make them successful. Often, this is the result of lots of playtesting, and sometimes new decks are the result of simply being willing to experiment at a tournament. After I completed my Worlds invite at a League Challenge up in Sandusky, Ohio last February, I decided to play what I thought would be merely fun decks until the May 2015 set was legal for play while helping other local players get the testing necessary so they could continue chasing their Worlds invites. I told Deon Lunsford that I was merely there to help him and the rest of our crowd in their playtesting until Nationals, to which he responded "No Steve. Your job now is to break the format." Little did I know that the "fun deck" I was about to create would bring me one game away from achieving a Day Two invite to the World Championships.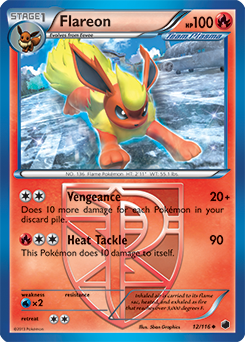 Last February, I spent the better part of one weekend watching the stream from the Florida Regional, which was the first major tournament in the U.S. where Primal Clash was legal for play. Throughout the tournament, I was able to watch decks like Primal Groudon-EX and M Gardevoir-EX in action. However, no deck from that tournament had a bigger impact on me than Orion Craig's tournament-winning Flareon / Empoleon / Archie's Ace in the Hole variant. Just one month prior to the Florida Regional, I had been hanging out with Carl Scheu at a Primal Clash Prerelease when he claimed he was going to spend forever trying to make Archie's Ace in the Hole work with Blastoise, only to fail every single time and eventually give up on the idea. Well, not long after watching the Florida Regionals stream, I stumbled across Orion's Flareon list and had a little spare time, so I decided to challenge Carl's idea of making Archie's Blastoise competitive and see if I could have a little fun with the concept we both felt would be impossible to mold into a tournament level deck. I decided to use the turbo engine which Orion had played in his Flareon deck to set up a first turn Archie's Ace in the Hole as often as possible, getting Blastoise into play the same way he had done with Empoleon.
Here is Orion's Flareon list for reference:
The draw engine from this deck is built around Item cards and Pokemon Abilities more than Supporters. Orion had used cards such as Acro Bike, Battle Compressor, VS Seeker, Jirachi-EX, and Slurpuff to set up his hand and field much quicker than if he'd used the conventional 8-11 draw Supporters as his deck's engine. Since he was able to attack after only one turn of attaching Energy, it wasn't a problem to be ripping through his cards at such a brisk pace. Even if he ran into the Item-locking Seismitoad-EX, he was still guaranteed at least one turn of Items, which was often all he needed to set up what he needed for the remainder of the game.
The final piece of this puzzle was the most important, however, when translating this engine over to Archie's Blastoise – managing to score a first turn Archie's Ace in the Hole. Cards like Battle Compressor, Ultra Ball, and Computer Search help to send cards to the discard pile as well as empty out your hand, allowing you to meet the necessary conditions to play Archie's Ace in the Hole and put Blastoise onto your Bench directly from the discard pile, thus skipping the chore of having to evolve it from Squirtle. The question was: could this be done consistently enough to make the deck work in a format full of Seismitoad-EX?
Here is my first draft of Archie's Blastoise, translated directly from Orion's Flareon list.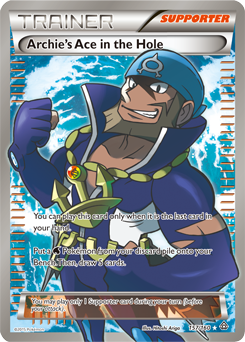 As you can see, a whopping 31 cards in this first list of Archie's Blastoise were identical to Orion's Flareon deck – that's over half the deck! Factor in that Archie's Blastoise is an entirely different deck from Flareon, and you're left with almost an identical engine between the two lists. Although the two decks were different, the concept was nearly identical: play Archie's Ace in the Hole as quickly as possible, then charge up an attacker (in this case, Keldeo-EX) in a single turn and start OHKO'ing your opponent's Pokemon left and right. If your attacker gets KO'd, simply use Superior Energy Retrieval to bring back your Energy and charge up another one with Blastoise's Deluge Ability! In a format ruled by decks that either required a more complex setup or relied on locking down your opponent's resources, Archie's Blastoise simply went for the kill — with no questions asked and very little time necessary. This deck was fun to play and caught many people by surprise at the time, since so few people had seen it when Brad Weyers and I brought it to the Kentucky State Championships back in March. Because it was not a widely played deck at the time, it also enjoyed the luxury of not having to play mirror matches the way most players running meta decks do at big tournaments, and thus allowed me to focus on other matchups instead of worrying about outspeeding an opponent who was playing the exact same deck. Although the list changed over the spring and summer, the core of this deck remained intact and ultimately led me to a 15th place finish at the U.S. National Championships in July. After all I'd been through with Archie's Blastoise, I couldn't have been happier to see Jacob Van Wagner win the 2015 World Championships with his version of the deck. Mission accomplished!
Using this Experience to Our Advantage
I learned a lot from Archie's Blastoise, and because I learned so much, I want learn that much more about the Pokemon TCG and how to be the best player I can be. Archie's Blastoise taught me how valuable it is to be able to avoid mirror matches, especially in large tournaments like States and U.S. Nationals. This deck also taught me how sticking with one deck for an extended period of time can be effective when the meta doesn't change to counter it. While I was constantly switching decks between tournaments until I completed my Worlds invite last season, I almost exclusively played Archie's Blastoise from the Kentucky State Championships right up through Worlds. Another interesting fact here is that until Worlds, I was playing Archie's Blastoise for the fun factor, with very little intention to actually do well at an event. This helped me remain relaxed and focused on enjoying the game, and took a lot of the extra stress off of me when I was playing in an event. Don't get me wrong – I'm not saying you shouldn't try to do well. Just remember that Pokemon is a game just like any other TCG, and to prioritize the fun factor when playing just as much as the competitive aspect of the game.
Anyway, now that my little story is out of the way, let's talk about a big, bad behemoth that will be looking to show its face come Cities. I am referring to none other than Mega Mewtwo Y in its brand new form: M Mewtwo-EX.
---
This concludes the public portion of this article.
If you'd like to continue reading, consider purchasing a PokeBeach premium membership! If you're not completely satisfied with your membership, you can request a full refund within 30 days.
Each week we post high-quality content from some of the game's top players. Our article program isn't a corporate operation, advertising front, or for-profit business. We set our prices so that we can pay the game's top players to write the best content for our subscribers. Each article topic is carefully selected, goes through multiple drafts, and is touched up by our editors. We take great pride in our program!