2015 World Champions Crowned!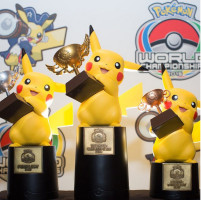 The Worlds 2015 TCG matches are over and the World Champions have finally been crowned! Congratulations to Jacob Van Wagner (Masters, U.S.), Patrick Martinez (Seniors, U.S.), and Rowan Stavenow (Juniors, Canada) for taking home the crowns!
Pokemon.com posted the full deck lists for the top 8 players in each age division, as well as an analysis of the most popular decks used at the tournament. Use the dropdown menus to browse through the different deck lists. You can see exactly who played what!
I also want to congratulate article writers Mees Brenninkmeijer for coming in 2nd place, Andrew Mahone for coming in 9th place, and Grant Manley for coming in 33rd! And congratulations to everyone else who even made it to Worlds in the first place – you're all stars!
Update (12:20 PM): The video game champs have now been crowned – Shoma Honami (Masters, Japan), Mark Mcquillan (Seniors, U.K.), and Kotone Yasue (Juniors, Japan). Seven of the top eight players in Masters were from Japan – incredible! A full list of the top 8 teams for each age division are listed on Pokemon.com.