Raichu Decks for Nationals!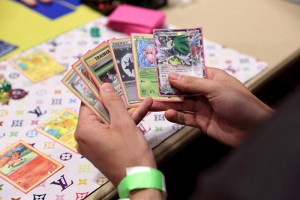 Hello 'Beach goers! I hope all is well. As many of us are well aware, United States Nationals is upon us and will be taking place within the week! I have been testing fervently in the time since my last article, and I am feeling confident with my deck choices leading into the final days of preparations. Both of the decks that I have been refining for weeks were able to earn top 8 spots at the Canadian National Championship this past weekend, so this should make for a very exciting and informative article. I am anxious to share these recently proven decks with you, while providing a plethora of insight and knowledge from my own testing.
The past few weeks have been a very productive time for me. During the school year, I am a Language Arts teacher at an alternative school in Akron, OH. Our last day of class was June 6th, so I have been free to test and get all of the things done that I haven't been able to do during the school year lately. This is my first "true" summer vacation since graduating from Allegheny College five years ago, and I hope the ample free time I have will be able to translate into great Pokemon results!
Positioning for Nationals stipends have been closed and Worlds points from last year have been added into the rankings, so now we have a pretty clear idea of how many Championship Points North American Masters competitors will need to obtain an automatic invitation into the elusive "Day Two" of the 2015 Worlds Competition in August. Fortunately, I was able to earn one of the hefty $1,000 National stipends this year by finishing in the top 32 Masters for Championship Points in North America. Funny enough though, I was only able to earn 25 of my potential 90 points from League Challenges when stipend rankings closed, so I have also been attempting to collect my final four League Challenge finishes before Nationals, which has been going extraordinarily well! Our local Tournament Organizers have been holding "last minute" Nationals preparation League Challenges that I have been able to capitalize on late in the game, significantly boosting my Championship Point total and ranking. After winning three League Challenges this week, I was able to land myself at 19th place in North America with 545 CP, giving me a decent shot at snagging a top 16 spot for a Day Two invite to Worlds if I am able to produce a strong showing at Nationals.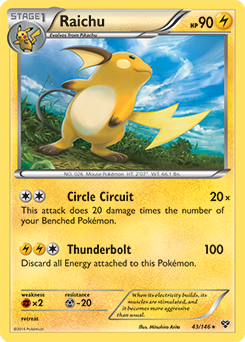 Among the various League Challenges I have attended in the past week, there was one very important League Challenge that I was able to attend and win last Sunday. Derium's CCG, our local card shop in Cuyahoga Falls, OH, was holding a free tournament with the grand prize of a complete set of Roaring Skies, reverse holo and secret rare cards included! A free tournament with a grand prize worth $300-$400? Sign me up! The shop was streaming the League Challenge to promote their YouTube and Twitch accounts, and it featured commentary by local TCG hero, Chris Fulop. The tournament was a ton of fun, and I learned quite a bit from the experience. Not to mention, selling the set allowed me to pay my bills this month and have a little money for Nationals since we won't be getting our stipends until much later in the summer! Hooray!
I have been attempting to perfect two very different builds of Raichu during my League Challenge conquests lately. I've worked closely with the PokeBeach staff to get as many hands on these lists as possible, so we can get a better idea of what works, what doesn't, and how to topple important matchups with them. What I have here are two very refined and original lists that I am very proud of heading towards the United States National Championship. I will be going into great detail with each of the decks by explaining specific card inclusions, what their strengths and weaknesses are, and various additional options for each.
I am very happy with the teamwork displayed by the PokeBeach staff in bringing about the best content possible for you, the readers, in these crucial weeks leading up to, what is for many, the climax of our competitive season. If you haven't subscribed to PokeBeach yet, now is the perfect time! We will be bringing you the best insight and lists around, while providing a great constructive environment for you to grow as a player and competitor yourself! Not to mention, reading the articles is a lot of fun and a great way to stay up to date on what's going on in the Trading Card Game during the summer months, so don't miss out!
Raichu / Landorus-EX / Seismitoad-EX / Garbodor
I've always thought that Landorus-EX and Raichu had good synergy and type coverage together. Just ask last year's United States National champion, Brandon Salazar. I'm sure he'll agree! Raichu has a damage cap of 180 damage when equipped with a Muscle Band and eight Benched Poke-pals. This is enough to take out most threats, but now there are Mega Pokemon-EX with over 200 HP to worry about! And what about Landorus himself? Landorus-EX is gaining traction in National Championships across the world, chiefly because he resists Raichu, preventing OHKOs from the Mouse while effortlessly returning OHKOs himself. Raichu needs a way to pile on the extra damage while covering his weaknesses. In my testing, I have found a few ways to do just that. The first list I have for you harkens back to last year's National Championship winning deck, Landorus-EX / Raichu / Garbodor.
This deck has come a very long way since Salazar's United States National triumph with it in 2014. There are many new tricks that make this deck a speedy and powerful force to be reckoned with. This deck did make top 4 at Canada's Nationals, but I have been constructing this list long before that happened. Even though some things I included in this list may look very strange, every card was chosen with a purpose in mind. With how much testing I have done with this deck, no card was simply "thrown in." Below, I will go over the purpose of all the main cards in the deck, the most important inclusions, summarize its overall strengths and weaknesses, and give some additional options for the list. Then, I'll go into detail about another Raichu deck I've been working on, which I'm considering just as much for Nationals. These decks are both very solid, and could easily take an experienced player far at Nationals, and with the in-depth analysis I'm going to do on them, you'll have all the knowledge necessary to pilot either one to a strong finish!
---
This concludes the public portion of this article.
If you'd like to continue reading, consider purchasing a PokeBeach premium membership! If you're not completely satisfied with your membership, you can request a full refund within 30 days.
Each week we post high-quality content from some of the game's top players. Our article program isn't a corporate operation, advertising front, or for-profit business. We set our prices so that we can pay the game's top players to write the best content for our subscribers. Each article topic is carefully selected, goes through multiple drafts, and is touched up by our editors. We take great pride in our program!