Flareon Finally Got A Move!
Disclaimer
Please note that a majority of this article was written before Lysandre's Trump Card was banned. However, I briefly discuss what this ban means for Flareon under the "Future" section of this article.
Introduction
Hello, reader! As many of you know, my name is Grafton Roll. For those of you who only know that because it says my name at the top of this article, let me introduce myself. Along with my dad and brother I have been playing this game for 11 years with no breaks. None. I started playing competitively at the age of eight, and dominated the Junior and Senior age groups. In my final year of being a Senior I was fortunate enough to top 4 both Nationals and Worlds; this lead to my first year in Masters being rather casual thanks to the free invite. I am currently a college student in central Florida doing school things, working, and playing Pokemon.
When it comes to this game, I want to help the community in any way I can. I want this game to stay around for as long as it possibly can because I love it. Not only that but I want others to find the same amount of joy that I have had from the game. I would love to share this game with my kids one day like my father has been able to share this game with me. My dream is to one day have a career built around this game, and the only way I can accomplish this is by helping the community grow and improve. If you share that same dream, then I urge you to help your local players. Next time you are at League, help a newer person learn the game or better themselves. Let someone get the better side of the trade to help them build their collection. Any act of kindness can help to extend this game's life.
This year I have earned myself an invite into Worlds playing only one deck. That deck, as it should be known, is The Church of Flareon. I would like to take credit as the one who created this deck and planted it firmly into the metagame as a high-tier contender, though of course with some help here and there from others. Today I will be talking about the changes made to Flareon over the years, and what we should expect to see as new sets are released. I will also briefly go over the new matchups and the many types of Seismitoad-EX you will inevitably run into along your tournament journey.
Don't forget to sign up for PokeBeach's article program too! The program is very comprehensive because we not only post weekly articles, but we also fix your decks, answer your questions, and help you improve your game! It's more than just articles. So why not try it out? There's a full 30 day money back guarantee too.
Flareon's Past, Present, and Future
Past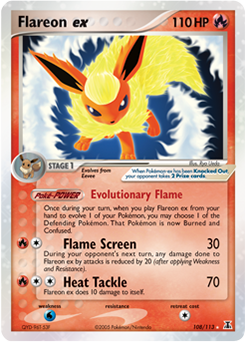 People may not know this, but Flareon has been a deck for a few years now. When the card was first revealed by PokeBeach I jumped all over like a louse onto a clean head of hair. Flareon's partner at the time was a card that some people still play today: Cofagrigus from Plasma Freeze. The basic concept of this deck was that you would use Six Feet Under to put three damage counters on a Pokemon, effectively putting them in a "coffin," along with getting two more Pokemon in the discard, making Flareon's Vengeance stronger. In the end each Coffin was worth 50 damage at the cost of granting your opponent a Prize card. It may not seem worth it at first glance, but then Ditto comes into the picture. Stacking Dittos underneath Cofagrigus makes it so Flareon can deal even more with Vengeance. Finally, the deck ran Life Dew so that when a Coffin "exploded" you wouldn't give up anything after all. This deck still had a lot of problems because its recovery wasn't optimal, and like Flareon decks today it burned through itself extremely fast. I played four copies of cards like Recycle and Audino.
I ended up playing this deck for US Nationals 2013 and even considered it for US Nationals 2014 just because of how much I personally love this card. Don't get me wrong: this wasn't blind love. The deck was amazing, and it ran like nothing I had ever seen before. At US Nationals 2013 I was one win away from getting into top cut and was rather disappointed when I didn't.
Present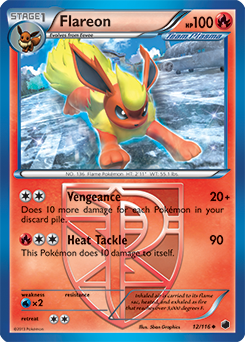 For months Flareon sat inside my extra deck box waiting for his time to strike, and strike hard he did. The moment I saw the Phantom Forces scans on PokeBeach, only two cards stood out from the rest: Battle Compressor and Lysandre's Trump Card. When I read Battle Compressor the first thing I thought was "I can play Flareon again!" The next thought I had after reading Lysandre's Trump Card was "never mind." I knew that if I made Flareon work again that people could easily tech one Lysandre's Trump Card and I would lose on the spot.
Just like all epiphanies, I had mine while in the bathtub taking a shower. Unlike those who came before me, I did not jump out and run down the street naked yelling at the plebeians. I figured that if I built the deck to run as fast as it could that even when they "Trumped" (as it came to be known) I could play all of the Battle Compressors again. This lead to the first draft of the deck that became the skeleton for all versions to come.
Now before you start to judge, this deck was made 10 minutes before I left for League. I did not spend much time thinking about random Pokemon to put in to help the deck, so I put in Mega Pokemon just to be funny and confuse people. One strategy that I use is purposefully putting bad cards into lists that I play at League to throw people off who might want to build that deck for themselves. Soon after this list was made the Megas were removed and replaced by cards like Mr. Mime and Slurpuff.
While talking about Flareon, let's not get caught up in nostalgia. Like a shark, Flareon must keep moving or it will die. Thus, we must keep moving and improving, but never forgetting about the meta around us. I have built possibly 50 different Flareon lists, and I could continue to make new ones. Whether it be with Ninetales from Dragons Exalted or even Crobat, I have tried just about everything that I don't immediately think is terrible, and some things that I most certainly would.
Just two weekends ago I played in the Kansas Regional Championships, and if you couldn't guess, I played Flareon. It was built quite different than the builds that I had before. The cast for this performance included Raichu, Cofagrigus, and Virizion-EX as Flareon's co-stars. This supporting cast was built upon the thought that I wouldn't find much Landorus-EX / Crobat or Donphan, as you may have been able to guess by my exclusion of Empoleon. You can see the whole list below:
This deck again was built for a field full of Yveltal-EX and Seismitoad-EX. The Virizion-EX would be a counter to decks that rely on Hypnotoxic Laser for that last bit of damage. Raichu was played so that I could OHKO Yveltal-EX easier, plus it's always nice to have a free retreater. Cofagrigus is played for the Mega Pokemon, mainly M Manectric-EX and Primal Groudon-EX. M Manectric-EX has quite a bit of HP and having that extra 30 damage makes the turn two kill much more feasible. Primal Groudon-EX, on the other hand, loves to play that fancy card Focus Sash, and putting even one damage counter on them would prevent Focus Sash's effect. Slurpuff is still in the deck for an easy way to get out Pokemon that will net you a few draws here and there.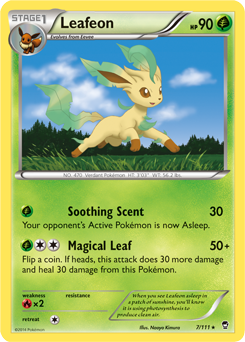 Leafeon from Furious Fists is played to have more options while playing against nearly any deck in the format. I love this card! Against the better Seismitoad-EX players, if they go first, they will not attach an Energy card so you can't do damage to them with Leafeon from Plasma Freeze. If you are playing Leafeon FFI, you can use Eevee from Furious Fists's Energy Evolution Ability instead, deal 60 damage (or 120 if you have a Silver Bangle attached) for one Energy and put them to Sleep. If they stay Asleep that is yet another turn you are allowed to play Items. His lack of Resistance is something that makes this card nowhere near as good the later the game goes on.
Now, I will not go into a full tournament report of Kansas Regionals, mainly because I find them very boring to read, but basically I lost to Harrison Leven in the sixth round. I honestly feel like if I had won that round then I would have won the tournament (Harrison went on to win the tournament). During the tournament the deck ran like a dream, cutting through Yveltal-EX and Seismitoad-EX like a warm knife through butter. Running into two Virizion-EX / Genesect-EX decks was also a nice treat to pad my record. At the end of Swiss I was one win off from making it into top 8. From the tournament I take away 30 Championship Points (but only 15 will count), and a few packs to help out my collection of the new set (no Shaymin-EXs, sadly).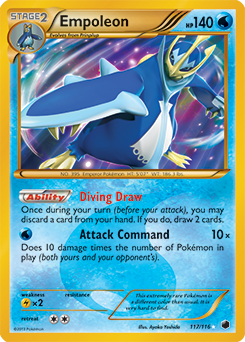 I threw this deck list into the article just so you can have it if your meta calls for a lot of Landorus-EX / Crobat and Donphan. Empoleon is not only great for KOing Water-weak Pokemon, but for its Diving Draw Ability. With how easy most cards in this deck are to play, Archie's Ace in the Hole can put Empoleon straight onto your Bench with minimal set up.
Next I will go into a deep discussion about all the strategies, tips, and tricks for taking full advantage of Eevee's fiery evolution, the deck's matchups, common mistakes players make when using the deck, strategies and approaches for beating certain decks and cards, and how I think the deck will change with the loss of Lysandre's Trump Card. Flareon may be the worst Eeveelution in the video games, but it certainly is a powerhouse in the TCG! I've poured over 12 hours into this article, so you won't want to miss out!
Don't forget to subscribe to the article program for all this plus so much more!
---
This concludes the public portion of this article.
If you'd like to continue reading, consider purchasing a PokeBeach premium membership! If you're not completely satisfied with your membership, you can request a full refund within 30 days.
Each week we post high-quality content from some of the game's top players. Our article program isn't a corporate operation, advertising front, or for-profit business. We set our prices so that we can pay the game's top players to write the best content for our subscribers. Each article topic is carefully selected, goes through multiple drafts, and is touched up by our editors. We take great pride in our program!