Roaring Skies Cram Session!
Hey 'Beach readers, I'm so thrilled to be writing my second article for you! It's been nothing but a blast working at PokeBeach and I'm so grateful and excited to make it my new permanent home! So with that said, let's get down to it!
Roaring Skies will make its competitive debut in one week. That happened quickly, didn't it? Many of us are still recovering from (or participating in) Boundaries Crossed – Double Crisis Regional and National Championships, and yet we need to figure out an entirely new format… in one week. Whether you've been spending the last few weeks working the nine-five, traveling to Regional Championships, studying for final examinations, hitting the gym, or going to prom, now is the time to focus on conquering the format ahead!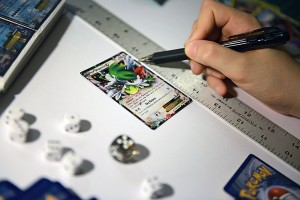 Fortunately, as your Roaring Skies cram session host, I am very experienced with last minute studying. I have spent many nights burning the midnight oil studying for Art History exams, writing papers, and putting the finishing touches on art projects. One time I even ended up in the emergency room after chopping through my thumbnail with a paper cutter while spending the entire night printing and mounting photographs. Procrastination is just something that comes naturally to me, always has. Can't explain it really. All I know is, if something needs to get done, it's probably getting done with no time to spare. To make things a little easier for us heading into the final week of Roaring Skies preparations, I have compiled a thorough study guide for everything Boundaries Crossed – Roaring Skies along with some tournament performance tips I have picked up over the past few years. In the article you will find all the most important deck lists, card breakdowns, and matchups to come out of Roaring Skies. I have included anything and everything you will need to end up at the top of the class!
And of course, don't forget to subscribe to our article program! Even I've learned a surprising number of tips and strategies from my fellow writer's articles, and my list of accomplishments goes on and on! It's impossible not to improve your game no matter who you are or what your level of experience is, especially if you're a player who is trying to break into the competitive scene. Not only will we post lengthy premium articles every week, but we'll also fix your decks, advise you, and help you out in our Subscriber's Hideout forum. You could be improving your game right now, as many others have already realized by subscribing and asking for help. The PokeBeach article writers and I are obsessed people who spend all our time and money playing this game every day, literally losing hours of sleep to make ourselves better. You couldn't be in more experienced hands. We've been where you are and we know how to bring your game to that next level, but we'll be making it so much easier for you and pushing you further than you could have ever gone on your own. Not only will we help you one-on-one, but we'll be writing about our extensive deck testing, tournament experiences, and all the other knowledge and tips we've learned over the years, saving you a bunch of time and money so you don't have to go through all the trouble. What better way to improve your game than get such direct and structured advice? The program also has a 30 day money back guarantee, so there's no risk to you! So why not try it out? You'll love it and wonder why you didn't subscribe earlier.
Acing the Test
Something I have learned throughout my years in school is that it does not matter how much you study if you cannot perform on exam day. As a track and field athlete, it didn't matter how much I trained if I didn't have the mental toughness and determination to succeed when the gun went off. Similarly, it doesn't matter how much you playtest if you can't pilot your deck to near perfection during competition. Before we get going on which decks to consider in a Roaring Skies format, I am going to review a few techniques I have discovered that will help you play at the top of your game, especially during a grueling Regional or National competition.
Poker Face and the Etiquette of a Competitor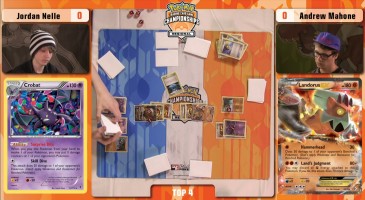 There is always more to the game than the cards themselves. You bring so much more to the table than your 60 pieces of cardboard. As a competitive TCG player, understanding your own presence and how it can affect your opponent and your opponent's decisions is crucial to turning out wins. As emotional, exciting, and frustrating as a game of Pokemon Cards can be, you never want to let your opponent know what's going on in your head with gestures or facial expressions. This may seem rudimentary, but it is a tactic that I see very few players employ on a regular basis. Keeping a good "Poker Face" in Pokemon extends far beyond keeping an unreadable expression while you play. It also pertains to the way you interact with your opponent vocally, the way you compose yourself as a competitor, and the time it takes you to make plays themselves.
The first step in making the correct plays during your own turn is paying attention to what your opponent does during their turn. I am a huge advocate of placing your hand on the table while your opponent plays. If you don't already do this, I highly suggest trying it out during your next tournament. Focusing on everything your opponent does, their cards, their plays, their expressions, what they discard, can give you better insight into what they are working with and what to expect in the upcoming turns. Placing too much thought into your own hand can cause you to get ahead of yourself, resulting in misplays. You want to take everything your opponent does into consideration when planning your own route to victory, so why construct your game plan when there are a number of unknown factors taking place during your opponent's turn? You haven't even drawn your card for your turn yet! Take a deep breath and put your hand down. You have plenty of time to figure out how to play your cards during your own turn.
I was playing Landorus-EX / Crobat at a City Championship earlier this year and was paired against a Seismitoad-EX / Yveltal-EX deck. During one of my few opening turns, I was considering whether or not to bench a Landorus-EX. I would not be attacking with the Landorus this turn and I had no Muscle Band to attach to it, so naturally, I was a little concerned about suffering a Head Ringer attachment during my opponent's next turn. I hadn't seen much of my opponent's deck yet and I didn't even know if he played any copies of the card. I had my Landorus halfway down on the table, flicking it back and forth as I thought about whether or not to play him down. Since I had allowed my opponent to see the card, I was pretty committed and ready to play at this point. My opponent had his hand down on the table, but right as I was about to play my Landorus, he picked his hand up and checked it for something. Noticing this, I decided not to bench my Landorus and attacked with my active Hawlucha. Sure enough, my opponent Juniper'd away a copy of Head Ringer during his following turn. Although this is just a small example, I think it speaks to the larger truth of how even the smallest lack of composure can lend a sizable advantage to your opponent.
Let's Go to Game Two
Knowing when to scoop is a big deal in a 50 minute best-of-three format. By this time, many of us know all too well that it is very difficult to finish three complete games of Pokemon in 50 minutes. Even though this is the case, I still prefer 50 minutes best-of-three to single round Swiss any day. Best-of-three rewards players that are consistent, quick to execute, and aware of how to use time to their advantage.
When you open against your opponent in game one, you should begin to make a judgement as to how you believe the matchup will play out in regards to time. Is your opponent a slower player? Is this a positive matchup for you? Is this a matchup that will take a long time to resolve? All of these things should be crossing your mind as formulate your path to victory. When you sit down to play the Pokemon TCG at a Regional or National Championship, you are not just trying to figure out how to win the game in front of you, you are trying to figure out how to complete a best-of-three series with the best possible outcome for yourself.
Of course the ideal scenario is that you win two games straight and have plenty of time to go to the bathroom, make some trades, and check out the vendor's table before moving onto the next match. But that doesn't always happen! There are a number of fun scenarios you can run into during a best-of-three competition, and it behooves you to have a solid idea of how to handle them when they occur. Let's look at some examples.
Say you notice you are playing against a slower player and you are playing what you consider to be a positive matchup. It may be difficult for you to scoop game one even if you are losing. After all, you're playing a good matchup! You should be able to win two games straight no problem! But there is no sense in trying to wade through one game that is going poorly, especially if your opponent is not playing quickly and the matchup is typically favorable. Trust your deck and move to game two. If you realize that things are going downhill within the first few turns, you will still have a little over 40 minutes to complete two games. Completing two games in 40 minutes isn't difficult at all. But say you drag this glacial game one out to 25 minutes while attempting to mount a comeback and end up losing. It was so close! Doesn't matter. Unless you can complete two games in the remaining 25 minutes, you have now thrown away your chance of winning a best-of-three series to a positive matchup.
On the other side of the coin here, it is important to realize when a tie is your most realistic and favorable outcome in a series, and to play for it. Save your booing and hissing though, because I'm not talking about slow playing. Slow playing your opponent is against the Spirit of the Game and will result in a penalty. There is a huge difference between playing for a tie and slow playing. Let me explain. Say you have the misfortune of being paired against an unfavorable matchup. You make some very heads-up plays and are able to steal a victory from your opponent during your first game which takes about 20 minutes. You now have two minutes to shuffle up and prepare for game two. By the time you guys are set up and ready to go, you now have 28 minutes plus three turns to complete the series. Knowing that this is a bad matchup for you, you should have no intention of allowing your opponent the opportunity to win two more games in the remaining 28 minutes. If your first game took 20 minutes, all you have to do is take a deep breath and play game two at the same pace you played game one. Do not scoop. You have no business scooping here and giving your opponent a better chance at being able to win the series. Play the entire game two out until the final Prize is taken. If you are going to win this series, you're going to have to 2-0 your opponent. Otherwise, allowing the match to result in a tie is the way to go. If your opponent wins game two in roughly 20 minutes, you have two minutes to shuffle up for game three and then six minutes plus three turns to complete the series, which will most likely end in a tie. This is the situation that I see played out the most often in tournaments, and it relates directly into the fallacy I mentioned above. If you are playing a positive matchup, scoop game one if it is not going well. Do not allow a good matchup to end in a tie because of stubbornness and poor draws early on! In this situation, it is the combination of you refusing to scoop game two and your opponent refusing to scoop game one that results in things ending in a tie. But for you, turning a bad matchup into a tie is one of the best case scenarios. Knowing how to play on both sides of this issue, both offensively and defensively, will make you a more strategic and threatening player to sit across from come tournament time.
In addition to this, scooping games can help maintain morale and momentum in a series when things are going bad. Pokemon is almost as much a head game as it is a card game. If you are able to win the first game in a series, you are in control of that match. You have two more chances and presumably about 30 minutes to figure out how to chalk up another win. The opponent is in your hands. If you don't like the way game two is starting out, you don't need to let your opponent revel in their own success. Scoop and go to game three! Let them know whether you will be choosing to play first or second during the final round and start shuffling up. Give yourself plenty of time to play an ideal final game where your opponent will not have the opportunity to stall you to time even if they wanted to. Never underestimate the power of confidence and composure in a game of Pokemon!
Learning when to scoop and when not to scoop during a 50 minute best-of-three series is an exercise in good judgement and will become easier the more you practice it. The most important thing to realize is that odds are, if it comes down to it, you and your opponent will not complete three full games of Pokemon in 50 minutes. Scooping and avoiding scooping at the appropriate times can help convert losses to ties and ties to wins when done correctly. Always take time into consideration at bigger tournaments! It could absolutely make the difference between a top cut finish and bubbling out.
Roaring Skies: The Guide
Though Roaring Skies has rocked the format with the introduction of many cards that are easily recognized as powerful, a few of our favorite decks from Boundaries Crossed – Double Crisis make the transition to Roaring Skies very well. Before I get into new deck archetypes, I'll also discuss which old format decks you should keep sleeved up and testing in the week to come.
Seismitoad-EX / Slurpuff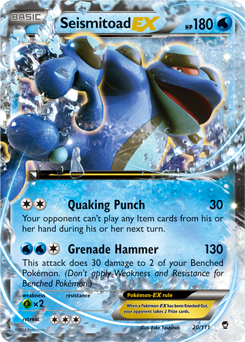 I wish I could tell you this card had gone away and is no longer relevant. I wish I could tell you that the Nationals and Worlds format will be totally free from this ugly blue Item-locking menace. Just imagine a world where Trainers are free to play their Item cards as they please! A world where games aren't decided on whether or not I wake up from a Hypnotoxic Laser flip! Well that world isn't this world friends. And if you want to be successful in summer months, you'll need to have an answer to Seismitoad-EX.
Seismitoad-EX gains a few tricks in Roaring Skies, but it's not the new cards that make Seismitoad-EX the monster he is next format. It's his position in the metagame. Major threats to Seismitoad-EX include Virizion-EX / Genesect-EX and Exeggutor. Unfortunately for our green friends, both Grass decks become less viable with the release of Roaring Skies. Exeggutor's infamous Supporter-lock breaks down because of Shaymin-EX's Ability to draw cards without using a Supporter and Virizion / Genesect loses considerable traction because it is outclassed by the faster OHKO decks that feature M Rayquaza-EX. Combine this with the fact that Seismitoad-EX now has a very popular 110HP Bench-sitting EX to prey on, and we have ourselves one happy Toad.
There are multiple ways to build a formidable Seismitoad-EX deck, however, I think the strongest iteration heading into Roaring Skies' debut is Seismitoad / Slurpuff. Here's its deck list, and then I'll go over everything you need to know about it and the other top decks of the Roaring Skies format. Are you ready to put yourself ahead of other players and improve your game right here and right now?
---
This concludes the public portion of this article.
If you'd like to continue reading, consider purchasing a PokeBeach premium membership! If you're not completely satisfied with your membership, you can request a full refund within 30 days.
Each week we post high-quality content from some of the game's top players. Our article program isn't a corporate operation, advertising front, or for-profit business. We set our prices so that we can pay the game's top players to write the best content for our subscribers. Each article topic is carefully selected, goes through multiple drafts, and is touched up by our editors. We take great pride in our program!