'Mega Master Deck Builder Boxes' Releasing in Japan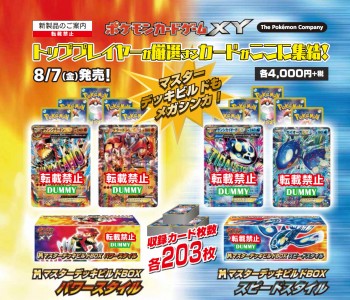 Two new "M (Mega) Master Deck Builder Boxes" will be released in Japan on August 7th for 4,000 yen each (around $40).
Each box will come with either a "Speed Style" collection featuring Kyogre or a "Power Style" collection featuring Groudon. The purpose of the collections is to build decks. Together, both boxes will give you access to a library of 203 cards.
Like the EX Master Deck Build Box released in 2012, all of the cards in these boxes will likely be reprints. That collection however included the alternate artwork reprints of Rayquaza-EX, Darkrai-EX, and Mewtwo-EX that we received in our tins before Japan, so there is a possibility this collection could introduce some English-exclusive alternate artwork to Japan.