Dominating Forces from Roaring Skies!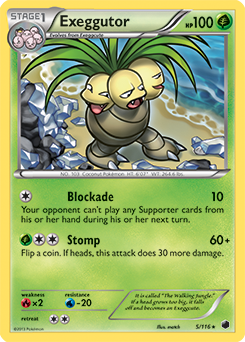 Hi there 'Beach fans, it's me again! It's been so much fun working here – the staff has really helped me bring my articles to the next level – so I'm excited to already be publishing my second one! I received a lot of positive reactions from my last article, so I'll go in-depth about a new deck in this one. Sadly, my favorite Exeggutor deck isn't very good anymore with the introduction of Shaymin-EX. As is sometimes the case in this game, we have to cut our losses and move on to new decks, and that's where I am now. Spending all my days and nights testing and testing to see what will dominate!
Ben wrote a very detailed article about M Rayquaza-EX, but I want to go in-depth about another version of the deck that's specifically designed to beat Seismitoad-EX to the best of Rayquaza's ability. This new list I feel is the best way to play (and exploit) Rayquaza. I'll also shortly go over the Dragon M Rayquaza-EX deck I've been testing, as I feel the deck is emerging as one of the top new Roaring Skies contenders. It's hard to have a discussion about the Sky High Pokemon without talking about his draconian version, after all! Then I'll discuss why Seismitoad is still such an important consideration in the current format… and go over a new version of Seismitoad-EX I've concocted that will be the deck to fear now that Roaring Skies is legal. You won't want to miss it!
If you haven't subscribed yet, now is the time! The writers and I put hours and hours of work into our articles and even more hours into playtesting and traveling to tournaments, so we're saving you all the work! We'll also fix your decks for you, advise you, and teach you, so there's really no better way to improve your game this drastically. So why not try the program out? There's a full 30 day money back guarantee too, so there's no risk to you!
Dragon Rayquaza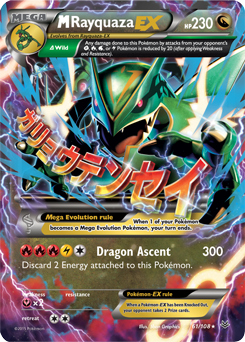 M Rayquaza-EX is an emerging deck Andrew made you more familiar with in his first article. This concept is getting much less hype than the Colorless M Rayquaza-EX deck, but it still has very interesting support from cards like Reshiram, Hydreigon-EX, and Double Dragon Energy to include it in serious discussions.
The Hydreigon-EX / Reshiram combination especially has a lot of potential. You lose the potential OHKO on anything on the first turn of the game, but you gain an absolute monster that has resistance to four types thanks to the Sky High Pokemon's Ancient Trait. This combined with his 230 HP and currently irrelevant Fairy Weakness makes him an absolute tank. He still OHKOs anything without needing a Stadium card, just needing a ridiculous five Energy cost. How do we do that?
Luckily we have Reshiram and Double Dragon Energy to help! The discard cost of the attack can be completely covered by Double Dragon Energy and the attack only needs one Lightning Energy, allowing you to play purely Fire Energy to go with Reshiram's Ability and Double Dragon Energy. Double Dragon Energy also opens up the way for a lot of cool Dragon Pokemon techs. This deck will favor a much slower pace of game, trying to grab three KOs without letting your opponent get to the big Rayquaza-EX.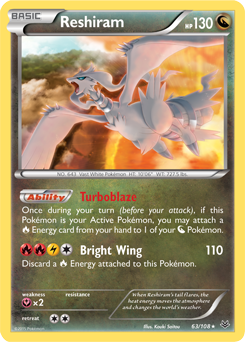 This is the base I currently am testing, and just the four Stadium spots are already very hard to figure out because we have so many  options available. We play Latias-EX to deal with decks that use Abilities, but we could include something like Flygon-EX or Latios-EX if it fits your metagame better.
For Stadiums you can basically play any Stadium that has been released so far, although a Stadium that immediately has effect on the game state is probably best. Scorched Earth comes to mind. But you can easily go crazy with these choices, sporting the Team Aqua's Secret Base for some disruption (getting a second Hydreigon-EX in play can negate the effect of Team Aqua's Secret Base on your own Dragons) or maybe even Champions Festival as a counter to decks that try to attack multiple Pokemon at once. It's also good when you're just rotating your Dragon Pokemon with Hydreigon-EX. Remember that Hydreigon-EX needs Stadium cards to function, so even if they don't seems super useful at first, you will still need to play them in your deck.
It could also be possible that a build featuring Sky Field, Shaymin-EX, and Mega Turbo is the better version. A list for that would look like this:
This deck feels like a slightly different version of the Colorless M Rayquaza-EX deck, trading in some explosiveness for sustainability and protecting you more from your opponent's counter plays. If you want to hear from someone who has tested the above version inside and out, Andrew did a very thorough analysis of it in his article, and he's done much more testing with it than I have – I just wanted to cover the deck briefly for completion's sake.
Colorless Rayquaza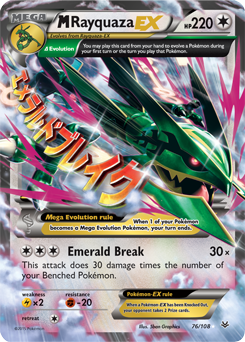 M Rayquaza-EX from Roaring Skies looks like a broken card. It has 220 HP, can deal a whopping 240 damage with the right set up, has an Ancient Trait that lets him come out on the first turn you play him, and you can charge him up in one turn with the help of Mega Turbo!
That means with the right cards in your deck, it should often be possible to deal 240 damage on the first turn of the game. If you can do this against three Pokemon-EX when going second, it doesn't even matter what is in your opponent's deck or what they throw against you, as they will never be able to win the Prize trade.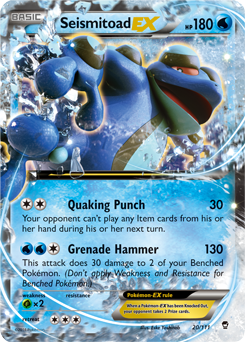 Of course, there are a couple of things you have to consider. Decks that go all-out with their Items and try to burn as many cards as possible are naturally weak against Seismitoad-EX's Quaking Punch. But you still want to keep that incredible speed. It wins you the game versus more traditional decks and even against Seismitoad-EX you always get one full turn of Trainers to set up. You just need to make sure that you can sustain the rest of the game after that first turn of explosive Items. And how can you do that?
I am now going to talk about an alternate version of Colorless Rayquaza that is best suited for beating Toad. After all, in any discussion about the current format, the discussion is always about how to beat Toad. And I'm going to show you how this version of Rayquaza can. Then – "if you can't beat them, join them" – I'll be talking about an innovative version of Seismitoad I came up with that I believe will be the deck to beat in this new format. Both this Rayquaza deck and my new Seismitoad deck are fantastic plays for the upcoming Regional Championships and I'll be going through everything you need to know about them. So are you ready to step up your game right now and put yourself ahead of other players?
---
This concludes the public portion of this article.
If you'd like to continue reading, consider purchasing a PokeBeach premium membership! If you're not completely satisfied with your membership, you can request a full refund within 30 days.
Each week we post high-quality content from some of the game's top players. Our article program isn't a corporate operation, advertising front, or for-profit business. We set our prices so that we can pay the game's top players to write the best content for our subscribers. Each article topic is carefully selected, goes through multiple drafts, and is touched up by our editors. We take great pride in our program!