'Bandit Ring' Japan's XY7 Set in June + 'Legendary Holo Collection' Mini-Set!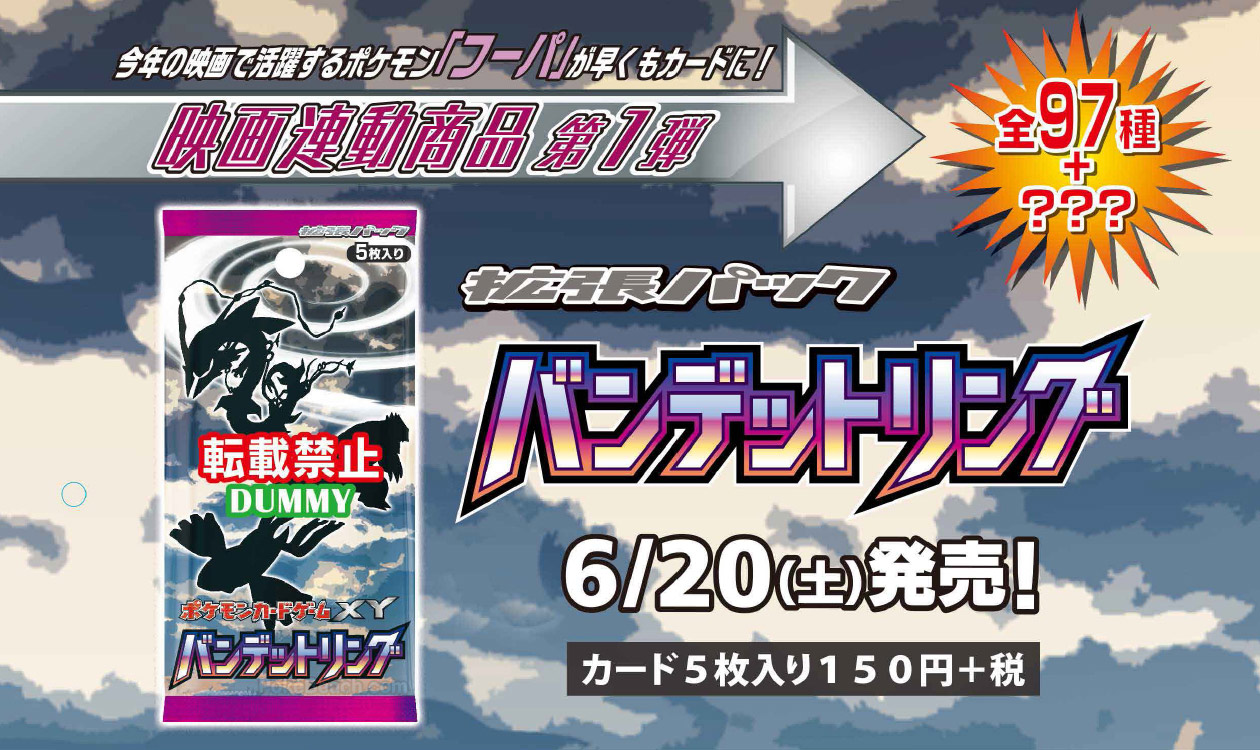 Starring Hoopa, Japan's next set is named Bandit Ring and will be released on June 20th, a month before The Archdjinn of Rings – Hoopa debuts in theaters. The set will contain 97 cards (excluding secret rares). Like usual, each booster pack will contain five cards and cost 150 yen.
Going by the booster pack's image, the set will feature some Legendary Pokemon from the Hoopa movie, including Primal Kyogre, Primal Groudon, and Mega Rayquaza. However, the booster pack's image is obviously a placeholder for now. Perhaps this is because the final image will feature Hoopa Unbound. Hoopa has already been revealed, is confirmed to be in the set, and would be the obvious choice to show on the pack artwork. But for some reason they've decided to show us a teaser instead. They may be hiding something, especially since full pack artwork has been revealed for every set in recent memory.
But the Hoopa set isn't the only news! In the same vein as Shiny Collection, a special "Legendary Holo Concept Pack" will be released on July 18th, the same day as the Hoopa movie. The mini-set will feature 27 cards (excluding secret rares) and will include Legendary Pokemon from the film. Again revealed as a teaser image, the booster pack shows Latios, Latias, Dialga, Regigigas, Arceus, Reshiram, Black Kyurem, Hoopa, and Pikachu as being included in the set. It's going to be a beautiful legendary jamboree! Each booster pack will come with four cards for 186 yen. All of the Legendary Pokemon will be holo.
Also releasing on July 18th is an "Emboar-EX vs. Togekiss-EX" deck. It'll come with two 30-card decks for 1,200 yen. Additionally, a deck box and pack of 32 sleeves featuring Hoopa (most likely Hoopa Unbound) will also be released on July 18th. Both will cost 362 yen.
To discuss this news, check out this thread on our forum!