'Pokemon Shuffle' Now Available for Download!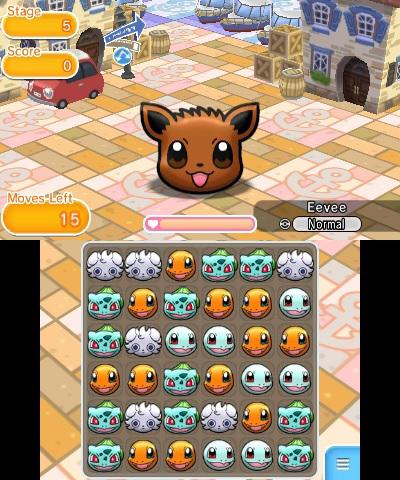 The 3DS eShop game, Pokemon Shuffle, is now available for download in North America, Europe, and Australia. It is a puzzle-matching game similar in idea to Pokemon Trozei, as we covered before.
Shuffle is free to download, but it's a "freemium" game. In order to play through it, you either have to spend real money on "jewels" or wait to continue playing. One jewel costs $0.99, six cost $4.99, 12 cost $8.99, 35 cost $24.99, and 75 cost $47.99.
Jewels are used to buy "hearts" in the game, with each stage costing one heart to play. One jewel equals five hearts ($0.99 / 5 stages), three equal 18, six equal 38, and 12 equal 80 ($8.99 / 80 stages). That should give you an idea how much it costs to play, though jewels are also used to buy items in the game (via coins), so you will probably spend your jewels toward those as well. When you are under five hearts, you will get a free heart every 30 minutes. You can also get some hearts in-game for free.