Mega Rayquaza Officially Revealed!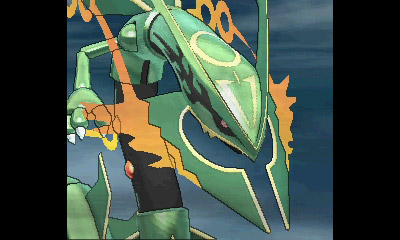 Mega Rayquaza was just revealed in the NicoNico live stream! Unlike Kyogre and Groudon, Mega Rayquaza is a Mega Evolution, but will "achieve Mega Evolution in a special way" that's different from other Pokemon. It's said that the way it Mega Evolves is somehow related to its unique biology. Rayquaza is also said to be connected to the mysteries of Mega Evolution, which will be revealed in Omega Ruby and Alpha Sapphire.
Mega Rayquaza is Dragon/Flying and almost all of its stats get a boost, especially its Physical and Special Attack. Its new signature attack is named Dragon Ascent, which is said to be the most powerful Flying-type move and exclusive to the Sky High Pokemon. Its new Ability is named Delta Stream – "Powerful moves like Rain Dance, Sunny Day, Sandstorm, and Hail will fail in the face of strong winds whipped up by Mega Rayquaza, while Abilities like Drizzle, Drought, Sand Stream, and Snow Warning will not even activate. In addition, moves of a type to which Flying-type Pokemon are usually susceptible will only deal normal damage."
The protrusion from Mega Rayquaza's face gives off particles that can control the humidity and concentration of gas in the air, allowing it to manipulate the weather. Its skin is also said to be shiny green like an emerald.
Some expanded information about Kyogre, Groudon, and Rayquaza's history in the Hoenn region was also revealed:
It was a primal age, early in the world's history… The natural world was overflowing with energy. That energy granted Groudon and Kyogre an overwhelming power. Seeking ever more of that energy for themselves, the two clashed again and again, and their battles cast the people and Pokémon of Hoenn into great danger. Brimming with the overwhelming power granted by the energy of nature, this transformation was named by later people "Primal Reversion." And the people called their tormentors Primal Groudon and Primal Kyogre.

One Pokémon looked down upon this battle from the sky above. The Pokémon that dances in the heavens: Rayquaza. Rayquaza is venerated by the people of Hoenn as their protector and savior. When Primal Groudon and Primal Kyogre had battled for 20 dawns and 20 nights, the world began to lose its natural balance and tilt toward destruction. The people, unable to endure any more, cried out to their mighty savior Rayquaza before a great stone that shone with rainbow brilliance. And a change came upon Rayquaza, weaving in the sky above Primal Groudon and Primal Kyogre. Suffused in brilliant light, its body began to transform visibly. And then…
To discuss this news, check out this thread on our forums!