'Phantom Gate' Pokemon-EX, Mystery Energy, AZ, and More Revealed!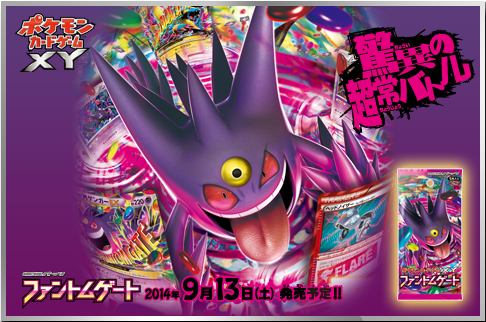 Japan's Pokemon TCG website has updated early with several cards from Phantom Gate, officially revealing the set for the first time and the main Pokemon-EX from its "Hyper Metal Chain Deck." Translations are below with a huge thanks to Franco T. Players who purchase a booster box of this set will also receive a Ditto promo.
Although proper images were not revealed, the website's set banner (right) gives a glimpse of M Manectric-EX and some sort of new Team Flare full art Trainer card. The card has a huge red "FLARE" watermark in the background of the text along with the Team Flare symbol. The border of the card is also red, a first for the TCG. The card sports what may be a Pokemon Tool rule under the artwork, but it's too small to translate at this time.
Also being released alongside the set on September 13th are new Espurr and Meowstic sleeves, Mega Gengar sleeves, and a Mega Gengar Deck Box.
To discuss this latest Phantom Gate news, check out this thread on our forums!
Gengar-EX – Psychic – HP170
Basic Pokemon

[C] Shadow Attack: Place 3 damage counters on 1 of your opponent's Pokemon.
[P][C][C] Dark Corridor: 60 damage. Your opponent's Active Pokemon is now Poisoned. Switch this Pokemon with 1 of your Benched Pokemon.

When a Pokemon-EX has been Knocked Out, your opponent takes 2 Prize cards.

Weakness: Darkness (x2)
Resistance: Fighting (-20)
Retreat: 2

---

M Gengar-EX – Psychic – HP220
Mega Evolution – Evolves from Gengar-EX

When 1 of your Pokemon becomes a Mega Evolution, your turn ends.

[P][C][C] Phantom Gate: Choose 1 of your opponent's Pokemon's attacks and use it as this attack.

When a Pokemon-EX has been Knocked Out, your opponent takes 2 Prize cards.

Weakness: Darkness (x2)
Resistance: Fighting (-20)
Retreat: 1

---

Dialga-EX – Metal – HP180
Basic Pokemon

[M][C][C] Chrono Wind: 60 damage. If the opponent's Active Pokemon is a Pokemon-EX, it cannot attack during your opponent's next turn.
[M][M][C][C] Fullmetal Impact: 150 damage. Discard 2 [M] Energy attached to this Pokemon.

When a Pokemon-EX has been Knocked Out, your opponent takes 2 Prize cards.

Weakness: Fire (x2)
Resistance: Psychic (-20)
Retreat: 2

---

Aegislash-EX Metal – HP170
Basic Pokemon

Ability: Mighty Shield
Prevent all damage done to this Pokemon by attacks from your opponent's Pokemon that have any Special Energy attached to them.

[C][C][C] Slash Blast: 40+ damage. Does 20 more damage for each [M] Energy attached to this Pokemon.

When a Pokemon-EX has been Knocked Out, your opponent takes 2 Prize cards.

Weakness: Fire (x2)
Resistance: Psychic (-20)
Retreat: 3

---

Zubat – Psychic – HP50
Basic Pokemon

[C] Skill Dive: Choose 1 of your opponent's Pokemon. This attack does 10 damage to that Pokemon. (Don't apply Weakness and Resistance for Benched Pokemon.)

Weakness: Lightning (x2)
Resistance: Fighting (-20)
Retreat: 1

---

Golbat – Psychic – HP70
Stage 1 – Evolves from Zubat

Ability: Sneaky Bite
When you play this card from your hand to evolve 1 of your Pokemon, you may choose 1 of your opponent's Pokemon and place 2 damage counters on it.

[C] Barrage Fly: Does 10 damage to all of your opponent's Pokemon. (Don't apply Weakness and Resistance for Benched Pokemon.)

Weakness: Lightning (x2)
Resistance: Fighting (-20)
Retreat: 0

---

Crobat – Psychic – HP130
Stage 2 – Evolves from Golbat

Ability: Abrupt Bite
When you play this card from your hand to evolve 1 of your Pokemon, you may choose 1 of your opponent's Pokemon and place 3 damage counters on it.

[C] Skill Dive: Choose 1 of your opponent's Pokemon. This attack does 30 damage to that Pokemon. (Don't apply Weakness and Resistance for Benched Pokemon.)

Weakness: Lightning (x2)
Resistance: Fighting (-20)
Retreat: 0

---

Ditto – Colorless – HP70
Basic Pokemon

Ability: Metamorph Gene
As long as this Pokemon is your Active Pokemon, this Pokemon can use any of the opponent's Active Pokemon's attacks. (This Pokemon still needs the necessary Energy requirements and anything else required in order to use the attack.)

[C] Sticky Attach: 10 damage. You may attach 1 Basic Energy from your discard pile to this Pokemon.

Weakness: Fighting (x2)
Resistance: none
Retreat: 2

---

Dimensional Valley – Trainer
Stadium

Each player's Psychic Pokemon pays 1 [C] less to attack.

This card stays in play when you play it. Discard this card if another Stadium card comes into play. If another card with the same name is in play, you can't play this card.

---

AZ – Trainer
Supporter

Choose 1 of your Pokemon and return that Pokemon and its attached pre-evolutions to your hand. (Discard all other cards attached to that Pokemon.)

You may play only 1 Supporter card during your turn (before your attack).

---

Mystery Energy – Special Energy

This card can only be attached to a [P] Pokemon. This card provides [P] Energy only while this card is attached to a [P] Pokemon.

The Retreat Cost of the [P] Pokemon this card is attached to is [C][C] less.

(If this card is attached to anything other than a [P] Pokemon, discard this card.)