Fall 2014 Tins: Venusaur-EX, Charizard-EX, Blastoise-EX!
The fall 2014 tins will feature Venusaur-EX, Charizard-EX, or Blastoise-EX along with four booster packs. The cards seem to be reprints with English-exclusive artwork since the product description says they are "fully tested Pokemon-EX." There are also no other released cards of the three in Japan.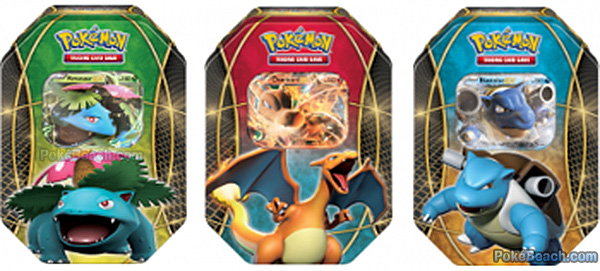 Three extra-powerful Pokémon step up to the challenge, each one a master of the arena! Choose from the red-hot blast of Charizard-EX, the dangerous poisons of Venusaur-EX, or the unstoppable hydropower of Blastoise-EX! The Pokémon Trading Card Game: EX Power Trio Tin adds an extra EX boost to your collection, because each of these awesome tins includes a fully battle-tested Pokémon-EX card, plus 4 Pokémon TCG booster packs! Your opponents had better get ready!