New PTCG Product: 'Furious Fists Launch Kit'
Update (8:15 AM, Wednesday) – Added the product image! The MSRP is $399.99.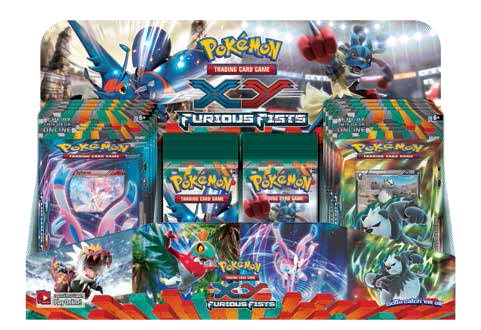 A brand new PTCG product will debut with Furious Fists on August 13th! This one is called the "Furious Fists Launch Kit" and is unlike any PTCG product released before. It comes with two booster boxes worth of Furious Fists booster packs (72 packs), eight theme decks, and 16 holo promo cards.
This product seems to be targeted at folks who like to buy Pokemon cards in bulk or who want to hold their own mini prerelease or those who run small card shops… or something. As of now we do not have a price or product image, nor do we know what the promo cards are (hopefully they won't be unique to this kit or it'll be expensive to get them).
Supercharge your Pokémon Trading Card release day with the XY – Furious Fists Launch Kit! It includes 72 booster packs and 8 theme decks from the XY – Furious Fists expansion, plus 16 foil promo cards to trade, play, and add to your collection!

Each kit contains:

72 Furious Fists booster packs!
8 Furious Fists theme decks!
16 exciting foil cards: 8 each of two designs!
A unique shelf display to hold the product for the new release