X/Y Pokemon Direct: Pokemon Bank, Poke Transporter, Mega Kanto Starters
The Pokemon Direct conference will begin at 12:00 AM GMT / 7:00 AM ET / 4:00 AM PT. This post will be edited with any developments as the conference progresses. You can talk in the live chat below and watch the conference as it plays live.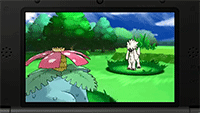 Update (6:30 AM): Due to what seems to be an error in editing, the Nintendo Direct presentation has revealed a new Pokemon. It appears at 15:16 for literally a couple of frames and you'll have to keep pausing to catch it.
Pokemon Bank is a 3DS app that will allow you to upload and store your Pokemon online. You can store them in 100 boxes for a total of 3000 Pokemon. You can thus keep your Pokemon in the cloud and deposit them or withdraw them as needed. You will also be able to search and filter through your boxes. Update: The app will be released on December 25th in Japan and December 27th in Europe. Update #2: You can use Pokemon Bank with multiple game copies. So if you own both X and Y, you can use the same set of boxes and upload and download the Pokemon to both.
Another 3DS app, Poke Transporter, allows you to upload your Pokemon from Black, White, Black 2, and White 2 to Pokemon Bank's online storage. You of course need the games inserted into your 3DS and can then launch the application to begin the transfer. You can only download Poke Transporter after you download Pokemon Bank. Update: Both apps will also have built-in security features that prevent players from transferring hacked Pokemon.
Gamefreak has had the idea for Pokemon Bank for a long time – since Pokemon Crystal! They talk about how Shokotan's grandkids can use her Pokemon in the future. Pokemon Box was the first realization of the idea.
Pokemon Bank is a paid service with an annual fee. It will be a long-term service and will be compatible with future titles. Update: The service will cost 500 yen a year ($5). There will be a free one month trial period until January 31st. You'll apparently have to pay the annual fee after that. So you have a month to move all your old Pokemon over to X and Y if you don't want to pay the annual fee.
In X/Y your Starter Pokemon will be given to you by one of your friends – not the professor! But later, Professor Sycamore will give you either Bulbasaur, Charmander, or Squirtle.
As predicted, Venusaur, Charizard, and Blastoise have Mega Evolutions. Update: Mega Venusaur has Thick Fat, Mega Charizard has Drought, and Mega Blastoise has a new Ability, Mega Launcher, which boosts its moves. All three of them retain their original type combinations.
The player's bracelet combines the feelings of the Trainer with the Pokemon to achieve Mega Evolution. Update: The bracelet is called the Mega Ring and holds a stone called the Key Stone. This Key Stone resonates with your Pokemon's Mega Stone, triggering Mega Evolution. It is said that the strong bond between a Pokemon and its Trainer plays an important role in making these two items resonate (Pokemon Amie?).
The red and blue 3DS XLs featuring Xerneas and Yveltal will be released on September 27th in America.
That's a wrap!
To discuss all this news, check out this forum thread!