New Landorus and Plasma Badge Promos for Japan's Battle Carnival Tournaments
A new Landorus promo and Plasma Badge promo will be given out to participants of Japan's Battle Carnival tournaments this fall. Thanks goes to Puddizzle for their translations below!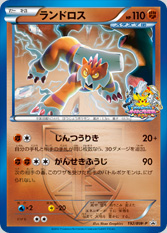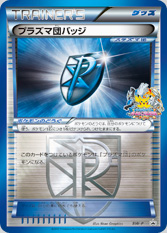 Landorus – Fighting – HP110
Basic Pokemon (Team Plasma)

[F][C] Extrasensory: 20+ damage. If you and your opponent have the same number of cards in your hands, this attack does 30 more damage.
[F][F][C][C] Rock Tomb: 90 damage. During your opponent's next turn, the Defending Pokemon can't retreat.

Weakness: Water (x2)
Resistance: Lightning (-20)
Retreat: 2

---

Plasma Badge – Trainer
Item (Team Plasma)

Pokemon Tool: Each Pokemon can have only 1 Pokemon Tool attached to it at any time.

The Pokemon that this Tool is attached to counts as a Team Plasma Pokemon.

You can use any number of Item cards during your turn.