Toonami Returning to Cartoon Network Tonight!
If you watched Cartoon Network between 1997 and 2008, you undoubtedly know what Toonami is. For those of you who don't, it was a popular programming block on Cartoon Network that would show action-oriented Japanese anime like Dragon Ball Z, Sailor Moon, Outlaw Star, The Big O, Rurouni Kenshin, Inuyasha, YuYu Hakusho, Naruto, and even Pokemon, as well as American cartoons like Justice League, Powerpuff Girls, and Teen Titans. It was an "anime hub" for Americans and one of the few places you could go to watch anime on television.
Unfortunately, in the mid-2000s, Cartoon Network decided that it wanted to move away from foreign-produced anime and focus more on its own original programming (more $$$ for them). There were also complaints from parents that Toonami's shows were too "loud" (action-packed and violent). Thus, in 2004, Cartoon Network moved Toonami from weekdays to Saturday nights and refocused its target demographic to a much younger audience. However, its ratings slowly declined and it was ultimately cancelled in 2008.
On April Fools Day, Cartoon Network's Adult Swim revived Toonami for the night and showed many of the block's past anime. Toonami's CGI host, TOM 3.0, was re-rendered for HDTV and his original voice actor, Steven Blum, reprised the role. There was a huge online response to the event, and the following day, Adult Swim posted to its Twitter, "Want [Toonami] back? Let us know." A few days later, they posted, "We've heard you. Thank you for your passion and interest – stay tuned." Then on April 8th, Adult Swim aired a few bumpers stating "we're listening" and "we're looking into it." Finally, on May 16th, Adult Swim announced on its Facebook that Toonami would be returning on May 26th (which is tonight!).
The schedule for Toonami is as follows. As when Toonami was last on Cartoon Network, it will only air on Saturday nights for now.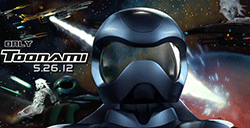 12:00 AM: Bleach
12:30 AM: Deadman Wonderland
1:00 AM: Casshern Sins
1:30 AM: Fullmetal Alchemist: Brotherhood
2:00 AM: Ghost in the Shell: Stand Alone Complex 2nd GIG
2:30 AM: Cowboy Bebop
(schedule repeats from 3:00 to 6:00 AM)
This past week, Jason DeMarco, Cartoon Network and Adult Swim's recently promoted vice president of strategic marketing and promotions and Toonami's former producer, stated on his Twitter that "Something you should know about THIS Toonami: We have very, very little $$. This experiment will need ratings success to receive more funding for new shows, more Tom animation, etc. I'm thankful for the $$ we've gotten, but it isn't a lot." He also stated "We will not be showing Naruto, DBZ, etc for now. The rights to those shows are owned by our competition or are out of our price range." He hinted that they are looking into bringing other anime to the block, such as Garterbelt, Fairy Tail, and Inuyasha: The Final Act, but this will of course depend on Toonami's success. So if you love anime, you should support it by watching Toonami again!