New 'Red Collection' Commercial Reveals Plethora of Cards
Update (1:30 PM) – Added high-quality screencaps and translations of all the remaining cards below. We still have to more clearly translate the one clause under Tirtouga's name regarding Cover Fossil and will update this story again once we do.
During today's new episode of Pokemon in Japan, a new commercial for Red Collection aired, revealing ten new cards as well as six previously obscured cards. Thanks to nYoo of Filb.de, we now have high-quality screencaps of all the cards, which you can click below for larger images; the cards have also been translated by Sabonea Masukippa.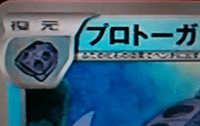 A screenshot of Tirtouga reveals some of the changes to the Fossil Pokemon mechanic. Above the image of Tirtouga's Cover Fossil, the text says "Revived Pokemon" rather than "Basic Pokemon." Under Tirtouga's name, rather than saying "Evolves from Cover Fossil," there is a longer clause written; we are only able to partially translate it right now due to the image quality, but it at least says, "The Cover Fossil —- place on the Bench." We know Fossil Pokemon are going to be handled differently in this set than in the past, and we know Cover Fossil and Plume Fossil are in this set as Trainer cards, so whatever is going to be different about Fossil Pokemon is going to be in that clause and on the Fossil Trainers themselves. Feel free to discuss the set and post your speculation here!
Virizion – Grass – HP110
Basic Pokemon

[C] Double Draw: Draw 2 cards from your deck.
[G][C] Leaf Slugger: 40 damage. During your next turn, this attack does 40 more damage.

Weakness: Fire (x2)
Resistance: Water (-20)
Retreat: 1

---

Larvesta – Fire – HP70
Basic Pokemon

[R] Ember: 20 damage. Flip a coin, if tails, discard an Energy attached to this Pokemon.

Weakness: Water (x2)
Resistance: none
Retreat: 2

---

Tirtouga – Water – HP90
Revived Pokemon

[W][C] Water Gun: 30 damage.
[W][C][C] Surf: 60 damage.

Weakness: Grass (x2)
Resistance: none
Retreat: 3

---

Vanillite – Water – HP50
Basic Pokemon

[W] Icicle Spear: 10+ damage. Flip a coin, if heads, this attack does 10 more damage.

Weakness: Metal (x2)
Resistance: none
Retreat: 1

---

Vanillish – Water – HP80
Stage 1 – Evolves from Vanillite

[W][C] Ice Beam: 20 damage. Flip a coin, if heads, the Defending Pokemon is now Paralyzed.
[W][W] Frost Breath: 40 damage.

Weakness: Metal (x2)
Resistance: none
Retreat: 2

---

Jellicent – Water – HP110
Stage 1 – Evolves from Frillish

Ability: Cursed Body
If this Pokemon is your Active Pokemon and is damaged by an opponent's attack, the Attacking Pokemon is now Confused.

[C][C] Hydro Pump: 10+ damage. This attack does 20 more damage for each Water Energy attached to this Pokemon.

Weakness: Lightning (x2)
Resistance: none
Retreat: 3

---

Tynamo – Lightning – HP40
Basic Pokemon

[L] Thunder Wave: 10 damage. Flip a coin, if heads, the Defending Pokemon is now Paralyzed.

Weakness: Fighting (x2)
Resistance: none
Retreat: 1

---

Yamask – Psychic – HP60
Basic Pokemon

[P] Bewilder: 10 damage. Flip a coin, if heads, the Defending Pokemon is now Confused.

Weakness: Darkness (x2)
Resistance: none
Retreat: 1

---

Cofagrigus – Psychic – HP90
Stage 1 – Evolves from Yamask

[P][C] Damage Count: Move all damage counters on one of your Benched Pokemon to the Defending Pokemon.
[P][C][C] Bewilder: 30 damage. The Defending Pokemon is now Confused.

Weakness: Darkness (x2)
Resistance: none
Retreat: 3

---

Trubbish – Psychic – HP60
Basic Pokemon

[C] Garbage Collection: Choose 1 card from your discard pile, show it to your opponent, and put it on top of your deck. Shuffle your deck afterward.
[P][C] Sludge Bomb: 20 damage.

Weakness: Psychic (x2)
Resistance: none
Retreat: 1

---

Beheeyem – Psychic – HP80
Stage 1 – Evolves from Elgyem

[P] Synchronize: 20 damage. Does 20 damage to each of your opponent's Benched Pokemon that is the same type as the Defending Pokémon.
[P][C] Psycho Shot: 40 damage.

Weakness: Psychic (x2)
Resistance: none
Retreat: 1

---

Conkeldurr – Fighting – HP140
Stage 2 – Evolves from Gurdurr

[F] Chip Away: 40 damage. This attack's damage isn't affected by Abilities or any other effect on the Defending Pokemon.
[F][F][C] Swing Around: 60+ damage. Flip 2 coins, this attack does 30 more damage for each heads.

Weakness: Psychic (x2)
Resistance: none
Retreat: 3

---

Archeops – Fighting – HP130
Stage 1 – Evolves from Archen

Ability: Prehistoric Power
While this Pokemon is in play, no player can play a Pokemon from their hand to evolve his or her Pokemon.

[F][F][C] Rock Slide: 60 damage. Choose 2 of your opponent's Benched Pokemon. This attack does 10 damage to each of them. (Don't apply Weakness and Resistance for Benched Pokemon.)

Weakness: Grass (x2)
Resistance: none
Retreat: 2

---

Mienshao – Fighting – HP90
Stage 1 – Evolves from Mienfoo

[F] Feint: 30 damage. This attack's damage isn't affected by Resistance.
[F][F] Hi Jump Kick: 50 damage.

Weakness: Psychic (x2)
Resistance: none
Retreat: 1

---

Terrakion – Fighting – HP130
Basic Pokemon

[F][C] Vengeance: 30+ damage. If any of your Pokemon were Knocked Out by damage from an opponent's attack during his or her last turn, this attack does 60 more damage.
[F][F][C] Land Crush: 90 damage.

Weakness: Grass (x2)
Resistance: none
Retreat: 4

---

Cobalion – Metal – HP120
Basic Pokemon

[M][C] Energy Breath: 20+ damage. This attack does 20 more damage for each Energy card attached to the Defending Pokemon.
[M][M][C] Iron Break: 80 damage. The Defending Pokemon cannot attack during your opponent's next turn.

Weakness: Fire (x2)
Resistance: Psychic (-20)
Retreat: 2