Details on the Two Victini Movies Revealed!
Update (Tuesday, 1:45 PM) – Fixed some of the translations in the summary at the end of the article.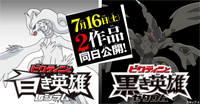 The official Pokemon movie website has updated with the two movie 14 titles: Victini and the Black Hero: Zekrom and Victini and the White Hero: Reshiram. The website has revealed that, as predicted, the movies will basically be two "versions" of the same plot, with the defining difference being the Legendary Pokemon that appears in each. However, we still do not know if there will be more differences beyond that.
So how will this work in Japan? Do you get to choose which you want to see when you go to the theater, or will certain theater complexes only show one of the two films? At least now if you want to see the movie more than once, you'll have the option of getting a slightly different experience (or should we rather consider this an evil marketing scheme to get more money out of the little childrens, like with the video games? :p). How will Cartoon Network handle the two different versions when it decides to air them in America, and will both movies be released together on DVD?
The blog section of the movie site has also revealed that the Victini players can download at movie theaters will know Ball of Flame in addition to V-Generate. Ball of Flame has 100 base power, 100% accuracy, a 30% chance of inflicting Burn, and five Power Points. The blog also mentions that there "might" be another big announcement regarding the films at the start of March. Considering the Pokemon you can download for preordering a movie ticket has not been revealed, we can probably assume that is what this future announcement pertains to (and maybe it's Keldeo?).
In addition to the above, an online sports newspaper, Nikkan Sports, has posted a news story about the two films which reveals some basic information about their plots. Translations of the important bits are below thanks to Sabonea_Masukippa; thanks goes to AAPF for this news tip!
Two New Pokemon Movies to Premiere the Same Day

We learned on the 14th that the new Pokemon movie, the fourteenth in the series and set for release on July 16th, is the first movie in the history of Japanese animation to have two versions produced separately but premiere on the same day. Adding to the already revealed 'Best Wishes – Victini and the Black Hero: Zekrom' is the 'White Hero: Reshiram.'

Ash and Pikachu, the protagonists, participate in a battle competition during the Harvest Festival of Eind Oak, home to the People of the Earth, when the mysterious Pokemon Victini appears. Up until this point the movies are the same, but the Legendary Pokemon varies between the two movies. In the 'Black Hero,' Zekrom appears after recognizing a person in pursuit of 'dreams,' while in 'White Hero,' Reshiram appears after recognizing a person in pursuit of the 'truth.'