'Super Smash Bros.' Released on the Wii's Virtual Console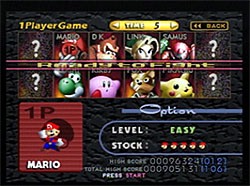 Super Smash Bros. has now been released on the Wii's Virtual Console. You can download it from the Wii Shop Channel for 1,000 points, which is $10.00. It was first released for the Virtual Console in Japan this past January, so North America is getting it almost a year later.
The game is the first incarnation of Nintendo's Super Smash Bros. series and was released on the N64 in North America in 1999, followed by Super Smash Bros. Melee for the Gamecube in 2001 and Brawl for the Wii in 2008. Pikachu and Jigglypuff are the only playable Pokemon characters in the game (Jigglypuff is hidden but later unlockable), though like all incarnations, the game also features Poke Ball Pokemon.