'HeartGold & SoulSilver' Press Release and Set Logo
Update (7:00 PM): Added second paragraph.
The official press release for HeartGold & SoulSilver has been released. It contains information we already discovered a few weeks ago, though we do find out the theme deck names. The English set is the equivalent of Japan's LEGEND: HeartGold and SoulSilver.
The press release states the set will have only 120 cards. The Japanese set had 150 cards, plus an additional 14 promos associated with it, so 44 cards will be cut. Counting the Slowking (Prime) promo, three Pokemon Prime cards are up for the chopping block. It looks like our second English HGSS set will consist of the 44 cut cards, plus the 54 cards from the Battle Starter Decks and Expert Deck Leafeon vs. Metagross and possibly some of the more recent Japanese promos such as Raichu (Prime). Then, Revived Legends, along with its Tyranitar and Steelix theme decks, could be our third HGSS set in August.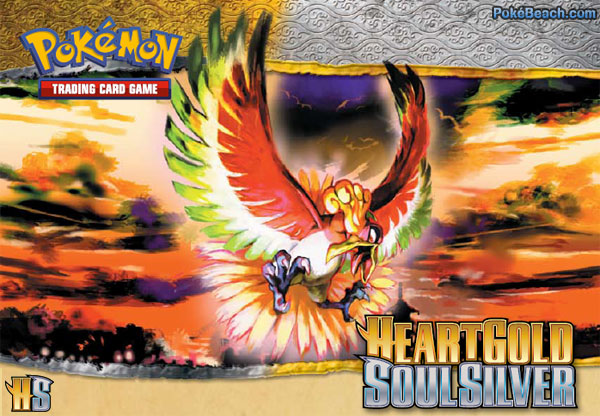 Release date: 10th February 2010

Journey to the Johto Region to reveal HeartGold & SoulSilver!

Pokemon are the heart and soul of any great Pokemon Trainer, and now is your chance to catch some of the greatest Pokemon of all time! With new kinds of cards that will change the way you play – like Pokemon Prime and the astonishing Pokemon LEGENDs Ho-Oh and Lugia – plus lots of Trainer cards that will accelerate your game and select Energy cards with a brand-new look, the HeartGold and SoulSilver expansion will get you started on your journey to greatness!

Half a dozen ultra-cool new Pokemon Prime!
Lugia & Ho-Oh as amazing dual-card Pokemon LEGENDs!
Spectacular Energy, Trainer & Supporter cards to expand gameplay options.
Three exciting theme decks built around the popular Feraligatr, Typhlosion & Meganium named Mind Flood, Ember Spark, and Growth Clash.
All-new card designs that give the set a unique look
Over 120 cards in all!