97 Classic Episodes Posted on Cartoon Network's Website
Sorry for the lack of updates. There hasn't been any news, I'm dealing with a few issues at school (despite being on Christmas Break now), and I've been trying to get our revamped forums up for the past two months.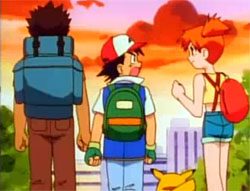 Most of season one and over half of season two of Pokemon have been posted on Cartoon Network's website. A couple of episodes from season one have been skipped (see below), and all of them have been stretched, but this is still a great way to watch most of the early episodes in one place if you haven't seen them in a while (or ever). There are 97 episodes spanning from Pokemon! I Choose You all the way up to Charizard Chills, which is more than half-way through the Orange Islands season. Once the above page loads, you can click "Full Episodes" to see the list of uploaded episodes.
Season One Episodes Missing

3. Ash Catches a Pokemon
4. Challenge of the Samurai
8. The Path to the Pokemon League
37. The Battling Eevee Brothers
38. Wake up Snorlax!
40. The March of the Exeggutor Squad
52. The Breeding Center Secret