Three New 'Mystery Dungeon' Games for WiiWare
Ugh! I don't know when it was the last time I wished there wasn't so much news coming in!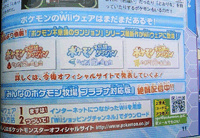 A new magazine scan is floating around on Japanese image boards, stating that three new Mystery Dungeon games will be coming out soon for WiiWare. The titles of the three games are, Press On! Flame Adventure Squad!, Let's Go! Storm Adventure Squad, and Go For It! Light Adventure Squad. You can click the thumbnail to the right for a larger magazine scan. The official Pokemon website will also update with the new game titles soon, revealing their preliminary information. Thanks go to Yaminokame for translating!