'Supreme Victors' Product Images; Fall 2009 Tins Image
We have obtained images of Supreme Victors product images, including the booster pack art, theme deck art, and promo blister pack packaging. The booster packs will feature Absol, Charizard, Garchomp, and Rayquaza while the theme decks will focus on Milotic and Arcanine. Click the thumbnails below for larger images.
The Supreme Victors promo blister pack that will be sold in stores will apparently feature a holographic POP 9 promo Manaphy, though like many prerelease product images, the card image may just be a stand-in for something else.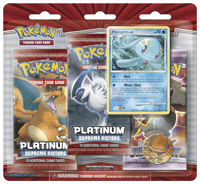 We also received the fall 2009 tin images, featuring Charizard G LV.X, Rayquaza C LV.X, and Garchomp C LV.X. As predicted, the promos will feature their own exclusive artwork that will be different from the LV.X cards in the main set.