Burger King Pokemon TCG Promotion Underway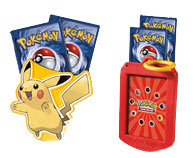 Like last year, Burger King is holding another Pokemon TCG promotion. It lasts from now until the end of the third week of June. When you order a kids' meal you will receive two of twelve reverse holo Pokemon cards, each stamped with a Platinum set logo, as well as a Pokemon TCG accessory.
Cards that you can receive include Dialga (Great Encounters #16), Palkia (Great Encounters #26), Glaceon (Majestic Dawn #20), Leafeon (Majestic Dawn #24), Chimchar (Majestic Dawn #56), Eevee (Majestic Dawn #62), Pikachu (Majestic Dawn #70), Piplup (Majestic Dawn #71), Turtwig (Majestic Dawn #77), Giratina (Legends Awakened #4), Meowth (Legends Awakened #106), and Pichu (Stormfront #45). While the promotion is for Platinum and each card features its set logo, none of the cards are actually from the set.
The accessories include Pikachu and Regigigas card holders, Shaymin and Giratina lenticular rockers, and blue and red card frames.