Many 'Pulse of the Frontier' Card Images, Translations; Information
UPDATE: The translations have been added below the card images. Thanks go to Bangiras for translating all of the cards so quickly and Jason for HTMLizing them for me. Cards to look at twice are Blaziken FB LV.X, Garchomp C LV.X, Electivire LV.X, Rayquaza, and Regigigas.
Sorry for the lack of updates this week; I still had midterms and projects and unfortunately still do.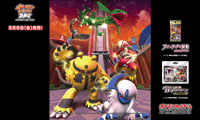 The official Pokemon Card website has released 29 card images from Pulse of the Frontier, the next Japanese set that will be released on March 6th. You can download the set wallpaper by clicking the thumbnail to the right. The translations of the cards are below the card images, courtesy of Bangiras as usual. The first six card images below are from the "Garchomp vs. Charizard" theme deck, while the rest are from the main set.
There will be 100 cards in the set. As we confirmed a while ago, Cynthia's Pokemon have a "C" at the end of their name, which stands for "Champion." Pokemon owned by Pokemon Platinum's Frontier Brains have an "FB" at the end of their name. Galactic Pokemon are still in this set, as are unowned, normal Pokemon cards. Gym Leader Pokemon are not known to be in the set yet and probably will not be.
Confirmed LV.X's so far are Charizard G, Garchomp C, Blaziken FB, Electivire FB, and Staraptor FB. Will there be more? We'll find out soon!
Charizard G LV.65 – Fire – HP100
Basic Pokemon (SP)

[R][C] Flame Flight: Flip a coin, if heads this attack does 40 damage to 1 of your opponent's Pokemon.
[R][C][C] Heat Blast: 50 damage.

Weakness: Water (x2)
Resistance: Fighting (-20)
Retreat: 3

---

Charizard G LV.X – Fire – HP120
Level-Up (SP)

Poke-Power: Call For Power
You can use this Power any number of times during your turn. Choose 1 Energy attached to one of your Pokemon and move it to this Pokemon. This Power can't be used if this Pokemon is affected by a Special Condition.

[R][R][C][C][C] Hellfire: 150 damage. Flip a coin, if tails discard all Energy attached to Charizard G.

Weakness: Water (x2)
Resistance: Fighting (-20)
Retreat: 3

---

Lucario C LV.60 – Fighting – HP90
Basic Pokemon (SP)

[C] Metal Claw: 20 damage.
[F][C][C] Mid-Air Strike: 30 damage. Flip a coin, if heads this attack does an additional 30 damage.

Weakness: Psychic (x2)
Resistance: none
Retreat: 2

---

Garchomp C LV.62 – Colorless – HP80
Basic Pokemon (SP)

[C][C] Claw Swipe: 30 damage.
[C][C][C] Earthquake: 50 damage. Does 10 damage to each of your Benched Pokemon.

Weakness: Colorless (x2)
Resistance: none
Retreat: 1

---

Garchomp C LV.X – Colorless – HP110
Level-Up (SP)

Poke-Power: Healing Breath
You can use this Power once during your turn, when you play this card from your hand to Level Up a Pokemon. Remove all damage counters from all of your SP-Pokemon.

[C][C][C] Dragon Dive: Discard 2 Energy attached to Garchomp C, and do 80 damage to 1 of your opponent's Pokemon. Garchomp C can't use Dragon Dive during your next turn.

Weakness: Colorless (x2)
Resistance: none
Retreat: 0

---

Pinsir LV.32 – Grass – HP90
Basic Pokemon

[C][C] Scissor Rush: Flip a coin, if heads return the Defending Pokemon and all cards attached to the Defending Pokemon to your opponent's hand.
[G][C][C] Super Slash: 50 damage. If the Defending Pokemon is a Stage 2 Evolved Pokemon, this attack does an additional 30 damage.

Weakness: Fire (+20)
Resistance: none
Retreat: 2

---

Blaziken FB LV.50 – Fire – HP80
Basic Pokemon (SP)

[R] Luring Flame: Choose 1 of your opponent's Benched Pokemon and switch it with the Active Pokemon. The newly switched-in Pokemon is now Burned.
[R][C] Vapor Kick: 30 damage. If your opponent has any Water-type Pokemon in play, this attack does an additional 30 damage.

Weakness: Water (x2)
Resistance: none
Retreat: 1

---

Blaziken FB LV.X – Fire – HP110
Level-Up (SP)

Poke-Body: Burning Soul
Each player's Burned Pokemon takes an additional 40 damage from attacks. Even if there are multiple Burning Soul Poke-Bodies in play, the damage is increased by 40.

[R][C] Jet Shoot: 80 damage. Any damage done to Blaziken FB by attacks during your opponent's next turn is increased by 40.

Weakness: Water (x2)
Resistance: none
Retreat: 1

---

Wailmer LV.10 – Water – HP80
Basic Pokemon

[W][C] Hydro Pump: does 20 damage plus an additional 10 damage for each Water Energy attached to Wailmer that isn't used to pay for this attack's Energy cost. Extra Energy after the second doesn't count.
[W][C][C] Take-Down: 50 damage. Wailmer does 20 damage to itself.

Weakness: Lightning (+20)
Resistance: none
Retreat: 3

---

Feebas LV.5 – Water – HP30
Basic Pokemon

[.] Surprise Attack: 20 damage. Flip a coin, if tails this attack fails.
[W] Count Draw: Draw cards from your deck equal to the number of Unevolved Pokemon your opponent has in play.

Weakness: Lightning (+10)
Resistance: none
Retreat: 1

---

Milotic LV.49 – Water – HP90
Stage 1 – Evolves from Feebas

[W][C] Clear Ring: 20 damage. You may discard 2 cards from your hand. If you do, remove 4 damage counters from 1 of your Pokemon.
[W][C][C] Scale Blow: Does 90 damage minus 10 damage times the number of cards in your hand.

Weakness: Lightning (+20)
Resistance: none
Retreat: 1

---

Empoleon FB LV.50 – Water – HP90
Basic Pokemon (SP)

[W][C] Rushing Water: 20 damage. Move 1 Energy attached to the Defending Pokemon to one of your opponent's other Pokemon. If your opponent only has 1 Pokemon, ignore this effect.)
[W][C][C] Escort: 40 damage. If you played a Supporter card from your hand during this turn, this attack does an additional 20 damage.

Weakness: Lightning (x2)
Resistance: none
Retreat: 2

---

Plusle LV.33 – Lightning – HP60
Basic Pokemon

[.] Greedy Draw: Draw cards from your deck until you have 1 more card in your hand than your opponent has in his or her hand. (If you already have more cards in your hand than your opponent, this attack fails.)
[L] Hand Charge: 10 damage. Attach 1 Lightning Energy card from your hand to one of your Pokemon.

Weakness: Fighting (+10)
Resistance: Steel (-20)
Retreat: 1

---

Electivire FB LV.50 – Lightning – HP90
Basic Pokemon (SP)

[C] Dump and Draw: Discard up to 2 Energy cards from your hand. Then, draw 2 cards from your deck for each card you discarded.
[L][C][C] Electric Jump: 40 damage. Move 1 Lightning Energy attached to Electivire FB to one of your Benched Pokemon. (If you don't have any Benched Pokemon, ignore this effect.)

Weakness: Fighting (x2)
Resistance: Steel (-20)
Retreat: 3

---

Electivire FB LV.X – Lightning – HP120
Level-Up (SP)

Poke-Power: Energy Recycle
You can use this Power once during your turn; if you do, your turn ends. Choose up to 3 Energy cards from your discard pile and attach them to your Pokemon in any way you like. This Power can't be used if this Pokemon is affected by a Special Condition.

[L][C][C] Powerful Spark: Does 30 damage plus an additional 10 damage for every Energy you have in play.

Weakness: Fighting (x2)
Resistance: Steel (-20)
Retreat: 3

---

Baltoy LV.19 – Psychic – HP50
Basic Pokemon

[C] Spinning Attack: 10 damage.
[C][C] Quick Turn: Flip 2 coins, this attack does 20 damage times the number of heads.

Weakness: Psychic (+10)
Resistance: none
Retreat: 1

---

Claydol LV.51 – Psychic – HP90
Stage 1 – Evolves from Baltoy

[C][C] Ancient Spell: Place 3 damage counters on Pokemon (yours and your opponent's) in any way you like.
[P][P] Synchro Damage: 30 damage. If Claydol and the Defending Pokemon have the same amount of HP remaining, this attack's base damage is 90 instead of 30.

Weakness: Psychic (+20)
Resistance: none
Retreat: 1

---

Drifblim FB LV.50 – Psychic – HP80
Basic Pokemon (SP)

Poke-Body: Pump Up
If your opponent has 3 or fewer Prize cards remaining, this Pokemon's HP is increased by 40.

[P][C][C] Shadow Ball: Does 40 damage to 1 of your opponent's Benched Pokemon. This attack's damage hits with the influence of the Benched Pokemon's Weakness and Resistance.

Weakness: Darkness: (x2)
Resistance: Colorless (-20)
Retreat: 2

---

Absol G LV.59 – Darkness – HP70
Basic Pokemon (SP)

[D] Feint Attack: Does 20 damage to 1 of your opponent's Pokemon, ignoring Weakness, Resistance, and any effects.
[D][C][C] Message of Ruin: Return all Energy attached to Absol G to your hand. At the end of your opponent's next turn, the Defending Pokemon is Knocked Out.

Weakness: Fighting (x2)
Resistance: Psychic (-20)
Retreat: 1

---

Dragonite FB LV.50 – Colorless – HP100
Basic Pokemon (SP)

[C][C][C] Mach Blow: 20 damage. If the Defending Pokemon is an SP-Pokemon, this attack's base damage is 80 instead of 20.
[C][C][C][C] Giant Tail: 100 damage. Flip a coin, if tails this attack fails.

Weakness: Colorless (x2)
Resistance: Fighting (-20)
Retreat: 3

---

Rayquaza C LV.73 – Colorless – HP100
Basic Pokemon (SP)

[C] Trash Burst: 10 damage. You may discard up to 5 Energy cards from your hand. If you do, this attack does an additional 10 damage for each Energy card discarded in this way.
[C][C][C][C] Twister: 50 damage. Flip 2 coins, discard Energy attached to the Defending Pokemon equal to the number of heads. If both coins are tails, this attack fails.

Weakness: Colorless (x2)
Resistance: Fighting (-20)
Retreat: 3

---

Staraptor FB LV.50 – Colorless – HP80
Basic Pokemon (SP)

[C] Quick Attack: 10 damage. Flip a coin, if heads this attack does an additional 10 damage.
[C][C][C] Whirlwind: 30 damage. Switch the Defending Pokemon with one of your opponent's Benched Pokemon. Your opponent chooses the Benched Pokemon to switch.

Weakness: Lightning (x2)
Resistance: Fighting (-20)
Retreat: 1

---

Staraptor FB LV.X – Colorless – HP100
Level-Up (SP)

Poke-Power: Fast Call
You can use this Power once during your turn. Search your deck for 1 Supporter card, show it to your opponent, and put it in your hand. Shuffle your deck afterward. This Power can't be used if this Pokemon is affected by a Special Condition.

[C][C][C] Fog Clear: 40 damage. Before doing damage, you may discard a Stadium card. If you do, this attack's Base Damage is 70 instead of 40.

Weakness: Lightning (x2)
Resistance: Fighting (-20)
Retreat: 0

---

Garchomp LV.71 – Colorless – HP130
Stage 2 – Evolves from Gabite

Poke-Body: Dragon Awe
When this Pokemon is your Active Pokemon and is damaged by an opponent's attack (even if this Pokemon's HP is reduced to 0), return 1 Energy attached to the attacking Pokemon to your opponent's hand.

[C][C] Guard Claw: 40 damage. Any damage done to Garchomp by attacks during your opponent's next turn is reduced by 20.
[C][C][C] Speed Impact: Does 120 damage minus 20 damage for each Energy attached to the Defending Pokemon.

Weakness: Colorless (+30)
Resistance: none
Retreat: 0

---

Regigigas FB LV.50 – Colorless – HP100
Basic Pokemon (SP)

[C][C][C] Drain Punch: 30 damage. Remove damage counters from Regigigas FB equal to the number of Energy attached to the Defending Pokemon.
[C][C][C][C] Rainbow Lariat: Does 20 damage for each Type of SP-Pokemon you have in play.

Weakness: Fighting (x2)
Resistance: none
Retreat: 4

---

Cynthia's Guidance – Supporter

Look at the top 7 cards of your deck, choose 1 card, and put it in your hand. Then, return the remaining cards to your deck and shuffle your deck.

(Standard Supporter rule text)

---

Champion Hall – Stadium

Each player's SP-Pokemon has its retreat cost reduced by 1 Energy.

(Standard Stadium rule text)

---

Battle Tower – Stadium

Whenever either player plays a Pokemon card from his or her hand to Level Up a Pokemon, that player removes 4 damage counters from that Pokemon.

(Standard Stadium rule text)