New 11th Movie Clips, Extended Trailer, Shaymin in Platinum
I was going to post these movie clips a few days ago and again yesterday, but I couldn't get them to work here (I am still trying to figure out how to use the new video software I have). So, I'll just show you where to look for them.
The official Pokemon movie website updated a few days ago with new clips from Giratina and the Icy Sky's Bouquet: Shaymin. Once the website has fully loaded, locate on the front page the picture of the movie characters. Clicking different characters will show different clips, with six clips in total.
A longer trailer has finally been released for Giratina and the Icy Sky's Bouquet: Shaymin, providing us with new and extended scenes. In the opening shot of Ash and crew, you can clearly see Dawn's new Swinub and Ash's newly evolved Gliscor, though this particular scene was revealed months ago. Giratina's voice in the trailer sounds "scaly" and seems to come straight out of a Godzilla movie. It is thankfully not a reused cry that other Pokemon have used in the past, so it is new to the anime. Regigigas' role is still not revealed, but it is shown briefly after the trailer has ended. Click the thumbnail below to open the video in a new window. It will begin to play right away.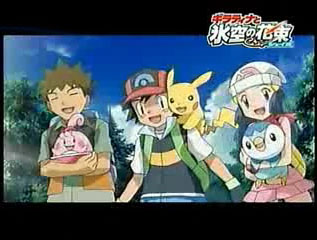 In one of the clips on the movie site, Shaymin is exposed to the pollen of a flower bouquet one of the movie characters is holding, and then transforms in to Shaymin Sky Forme. Today, the Japanese blog blue skY discovered that when Shaymin is exposed to a flower called Glacidia's Flower in Pokemon Platinum, it will transform into its sky form. This is similar to Deoxys in Diamond and Pearl, where you expose it to different meteorites to induce its different forms. The flower is the same red flower that the movie trailers have been showing for months. When Platinum is released, it will be available in Floaroma Town.