Finally! A Good-Quality Shaymin Sky Forme Image!
Shaymin's full Sky Forme image has been revealed on metal Pokemon badges from a Bandai Pokemon "Can Badge Collection." It looks like a reindeer crossed with a dog, has four legs, and bears what appear to be red wings (that look similar to poinsettia leaves). Will Shaymin replace Delibird as the Christmas Pokemon mascot?
The Shaymin, Shaymin Sky Forme, Mamoswine, and Giratina badges below will be released on June 24th in Japan, meaning the new Shaymin should officially be revealed by then. Originally, this set was advertised as containing a "New Pokemon," which is obviously now known to be Shaymin Sky Forme. Could one of the "New Pokemon" referred to on other products be Shaymin Sky Forme as well?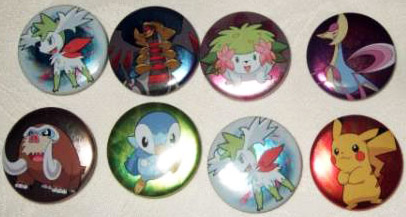 Speculation: Those red leaves look vaguely similar to the red slash in the movie logo. Could they be the same thing?
Thanks go to Heerosferret and her band of Pokemon toy collectors for the product information!