"The Rise of Darkrai" DVD on Sale at Target and Best Buy
Update: Added Target sale information.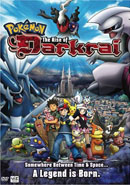 Both Target and Best Buy have The Rise of Darkrai at discounted prices of $13.99 and $12.99, respectively (Target.com has it for $12.99, but the in-store price is a dollar more; Best Buy's price is only that low this week). The regular price, notwithstanding that the DVD has no special features at all, is $19.98. If you want to buy the DVD for a cheaper and fairer price, be sure to head to one of the two stores! The DVD was officially released today, though many stores had it earlier this month.
Here is the summary of the movie from Best Buy's website. I spy three errors:
This 10th movie in the Pokemon franchise finds Ash and his friends traveling through a Spanish village called Alamos Town, where they come across a scene of unexpected and mysterious devastation. The dark and unknown Pokemon named Darkai rules time, while Palkia rules space, and now that the two of them are staged for battle, the balance of space-time stands on the brink. Now, Alamos Town has been sucked into the Pokemons' universe, and if the town is destroyed, so is the world.
… And from Target's website. I spy no errors:
The 10th Pokémon movie introduces Dialga and Palkia, two Legendary Pokémon from the "Diamond" and "Pearl" versions of the game. Ash, Brock, Dawn, and Pikachu visit the town of Alamos, which is dominated by two lofty towers that represent space and time. Alamos has been plagued by nightmares and supernatural events that the arrogant Baron Alberto blames on Darkrai, a powerful and elusive Pokémon. Alice, a gentle musician whose grandmother discovered Darkrai, disagrees. Her professor friend Tonio proves the escalating problems are caused by a clash between Dialga and Palkia. Unless the humans find a way to end this battle, the space-time fabric will tear and Alamos will be thrown into another dimension. Ash and Pikachu save the day, with some help from Dawn and Alice. The Rise of Darkrai (2007) is most the elaborate Pokémon feature to date: the CG effects range from the graceful towers to fireworks and energy storms. The drawn characters and computer-generated special effects are better integrated than in the previous features. The results are sure to delight Pokémon fans.