Larger Pokemon Platinum CoroCoro Page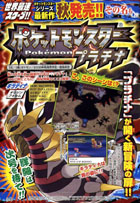 A larger scan of the CoroCoro Pokemon Platinum page from the other day has been leaked on to several Japanese image boards. Click the thumbnail to the right for a larger version.
The release date for the game is listed as "Fall 2008." The page gives a brief description of the game, which Bangiras has translated: "Pokemon Platinum is the story of Pokemon Diamond/Pearl with many new attributes added." It also says, "Giratina is the key to a new adventure."
Since the scan from the other day was small, it was hard to make out a few things, and so some details were incorrect. Giratina is actually in its Origin Form when the Pokemon Trainer battles it (we previously thought it was in its normal form). What is interesting is that when it is summoned, it is actually in its normal form… how does it turn to its Origin Form between its appearance at Spear Pillar and the Pokemon Trainer battling it (at probably the same location)? Perhaps Cyrus, who is standing in front of Giratina as it is summoned, is involved?
Giratina's ability is listed as "???" next to its height and weight. Thus, its ability is unknown at this time.
The HP bar for Giratina has a different design, and the Pokemon Trainer is wearing blue for his Platinum outfit. What other designs changes will occur in the game?
The page also says that more details on Pokemon Platinum will be revealed in the next CoroCoro issue. So, more information will be known in probably a month from now.