New Pokemon Game, New Pokemon
For those of you using Internet Explorer 6 (or earlier), the image enlarging is not yet functioning for you. I have to find a workaround for it because IE6 has not been updated in over six years and doesn't support anything recent. Among just this website not functioning well with it, you are risking your security by just browsing the web, since IE6 is so severely outdated that it is extremely vulnerable to viruses, malware, spyware, etc. I highly suggest that you upgrade to Internet Explorer 7 or Firefox if you can. If your version is even older than IE6 (like IE5), you should have upgraded over six years ago. ;)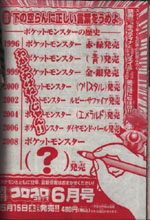 A new Pokemon game will hit the shelves in Japan later this year, according to the May issue of CoroCoro. A checklist with past Pokemon games is presented on one of the pages, with the slot for 2008 suggesting a game will be released during the year (scan courtesy of blue skY).
1996 – Pocket Monsters Red / Green
1996 – Pocket Monsters Blue
1999 – Pocket Monsters Gold / Silver
2000 – Pocket Monsters Crystal
2002 – Pocket Monsters Ruby / Sapphire
2004 – Pocket Monsters Emerald
2006 – Pocket Monsters Diamond / Pearl
2008 – Pocket Monsters ?????
Quite obviously, 2008 will see the "remake" version of Diamond and Pearl, as remakes for past games are presented on the page and that is what it seems to be suggesting. The June issue of CoroCoro (which actually comes out in May, not June) should have more information on the game, and when it does, it will be posted here!
As for the two new Pokemon we posted about last week, CoroCoro has made it quite clear that they do exist. "New Pokemon A" and "New Pokemon B" are shown in both scans below as future products (scans from Filb.de). As with the new Pokemon game, more information on them (perhaps even silhouettes) should be in June's issue.